Slow-cooker gizzards and pap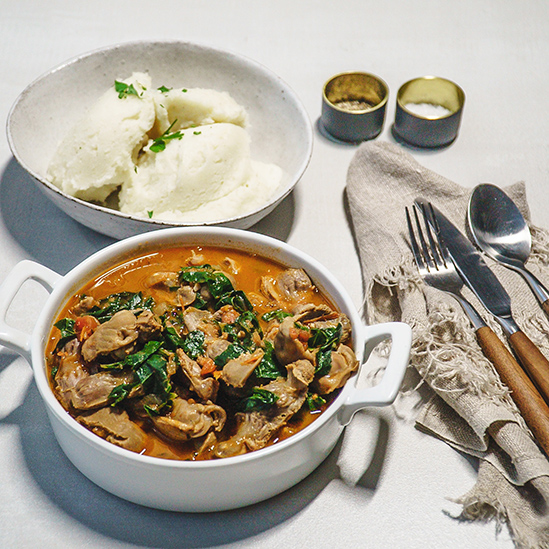 Prep time
—

Cook time
—

Serves
4
Chicken gizzards are packed with protein and other nutrients and full of flavour.
Ingredients:
vegetable oil
3 garlic cloves, chopped
1 small onion, diced
2 tbsp tomato paste
1 bay leaf
2 tbsp fresh thyme
1 tbsp fresh oregano
1 tbsp chicken spice
1 tbsp barbeque spice
1 bag chicken gizzards
2 cups chicken stock
3 tomatoes, peeled, seeded and diced
500g spinach
pap to serve
1 tbsp fresh parsley to garnish
salt and pepper
Method:
Heat a dash of oil in a frying pan over medium-high heat.
Add the garlic, onion, tomato paste, bay leaf, herbs, and spices. Sauté for a few minutes until the onions soften and become translucent.
Put the onion mixture and gizzards into the slow cooker. Add the chicken stock and tomatoes.
If necessary, add enough water to just cover the gizzards.
Cover the slow cooker and cook on low for 4 hours.
After 3½ hours, add the spinach along with salt and pepper to taste. Cook for 30 another minutes.
Serve with pap and garnish with fresh parsley.