Tandoori-spiced chicken with yellow rice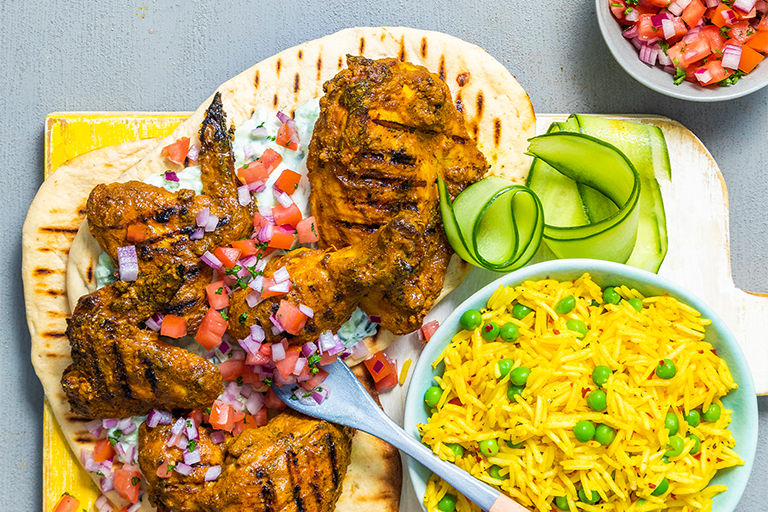 Prep time
60min

Cook time
40min

Serves
6
Who said you can't prepare this Indian classic over the coals? It's divine.
Ingredients:
Chicken:
1 x chicken braai pack
30ml canola oil
2 cups plain yoghurt
20ml cayenne pepper
20ml ground turmeric
20ml ground coriander
20ml ground cumin
30ml garam masala/curry powder
30ml lemon juice
20ml brown sugar
4 garlic cloves, finely grated
salt and pepper
Yellow rice:
2 cups jasmine rice
chicken stock
10ml turmeric
200g peas, cooked
5ml chilli flakes
salt and pepper
6 naan breads, grilled
raitas of choice (tomato and red onion / cucumber and yoghurt)
Method:
Chicken:
Combine the oil, yoghurt, cayenne pepper, turmeric, coriander, cumin, garam masala, lemon juice, sugar, garlic, and a sizeable pinch of salt and pepper.
Toss through the chicken pieces to coat evenly.
Place in the fridge and leave to marinate overnight (at least 8 hours).
Remove the chicken pieces from the marinade, discarding any excess.
Cook over medium-hot coals.
Braai until cooked through and charred beautifully, turning occasionally. This takes about 30-40 minutes.
Yellow rice:
Cook the rice according to the package instructions, using chicken stock instead of water.
Once the rice has been cooked and is still hot, stir through the turmeric and peas.
Season with salt, pepper, and chilli flakes.
Serve the chicken with the yellow rice, grilled naan and your raitas. Garnish with fresh coriander.