Chicken and waffles with a twist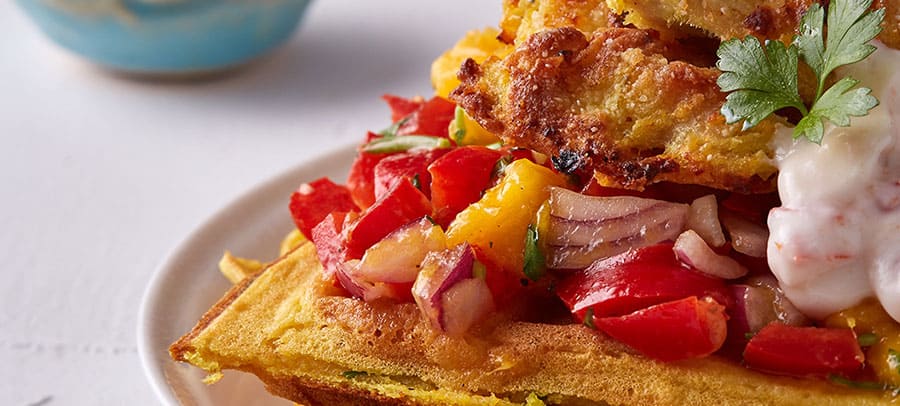 Prep time
45min

Cook time
20min

Serves
4
Served with mango salsa and topped with creamy yoghurt, these savoury waffles are as scrumptious as can be.
Ingredients:
Marinade
1 cup buttermilk
2 large egg whites, beaten
4 boneless, skinless chicken breasts, cut into strips
1 tsp mild curry powder
1 tbsp fresh coriander, chopped
Zest of 1 lemon
Flour mix
1 cup cake flour⅓ cup coarse mieliemeal
Salt and freshly ground black pepper, to taste
¼ tsp cayenne pepper
Cooking spray
Mango salsa
1 mango, peeled, pitted and cubed (see Cook's Note)
1 red sweet pepper, diced with white parts and seeds removed
1 red onion, finely chopped
1 tbsp fresh coriander, chopped
3 tbsp olive oil
1 tbsp cider vinegar
Salt and freshly ground black pepper
Topping
1 cup double-cream yoghurt
7 Peppadews, finely chopped
1 tbsp sweet-chilli sauce 
Waffles
2 cups cake flour
2 tbsp sugar
2 tsp baking powder
1 tsp bicarbonate of soda
½ tsp salt
1 tsp turmeric
2 cups buttermilk
½ cup butter, melted
2 eggs
Method:
Preheat the oven to 220°C.
To prepare the chicken, whisk the buttermilk and egg whites in a shallow glass dish until well blended. Stir in the curry powder, coriander and lemon zest. Add the chicken and turn to coat. Cover and marinate in the fridge for at least 30 minutes.
Line a rimmed baking sheet with foil. Set a wire rack on the baking sheet and coat it with cooking spray. Mix the flour, mielie meal, salt, black pepper and cayenne pepper in a small bowl. Put the flour mixture into a large resealable plastic bag or plastic container with a lid. Add the chicken strips to the bag (or container) and toss to coat. Shake off the excess flour and put the chicken on the prepared rack. Discard any leftover flour mixture and buttermilk marinade.
Lightly coat chicken with cooking spray. Bake in the preheated oven for 15 to 20 minutes, or until chicken is brown and crispy.
To make the salsa, mix the mango, sweet pepper, onion and coriander in a small bowl. Whisk the oil and vinegar in a separate bowl and season with salt and pepper. Drizzle over the salsa and mix well.
To make the topping, mix the double-cream yoghurt, Peppadews and sweet-chilli sauce in a small bowl.
Preheat the waffle iron to medium-high heat. Make the waffles by whisking the flour, sugar, baking powder, bicarbonate of soda, salt and turmeric in a medium bowl; set aside. Whisk the buttermilk, butter, vanilla and eggs in a large bowl. Add the flour mixture and mix until the batter is combined. Do not over mix – there should be some lumps.
Spray the preheated waffle iron with cooking spray. Use a soup ladle to spoon a ladle full of batter onto the waffle iron and close the lid. Cook until golden brown – about 4 to 5 minutes. Serve immediately or keep warm in a low heated oven.
Stack a few chicken strips on top of a waffle, add a scoop of salsa and a dollop of topping.
Cook's note:
Fry the chicken strips in a pan with oil instead of baking in the oven.