Peri peri braaied chicken with charred corn and cabbage slaw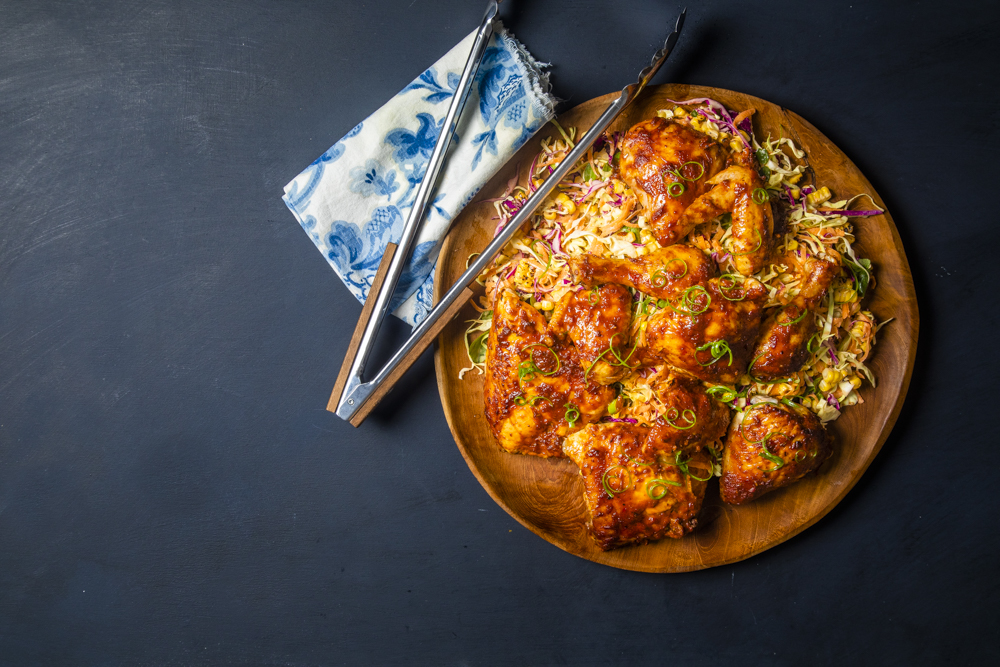 Prep time
30min

Cook time
45min

Serves
6
Get a head start on this recipe the night before – strapped for time?
Aim for at least 6 hours of marinating for maximum flavour.
Ingredients:
For the chicken
1 red onion, cut into 6 wedges
2 red peppers, cored and cut into four
3 Tbsp (45ml) canola oil
4 cloves garlic, minced
1 Tbsp (15ml) smoked paprika
1 Tbsp (15ml) dried rosemary
3 Tbsp (45ml) hot sauce (Sriracha)
3 Tbsp (45ml) Worcestershire sauce
2 Tbsp (30ml) lemon juice
2 Tbsp (30ml) red wine vinegar
10 chicken pieces braai pack
For the slaw
6 corn cobs, husks removed
1/3  red cabbage, shredded
1/3  white cabbage, shredded
4 large carrots, grated
2 spring onions, finely sliced
¼ cup (60ml) mayonnaise
2 Tbsp (30ml) lemon juice
Zest of 1 lemon
1 tsp (5ml) smoked paprika
½ tsp (3ml) hot sauce (Sriracha)
10g coriander, chopped
Salt and milled pepper
Method:
Heat the oven to 250°C.
Place the onion and pepper on a tray with 1 Tbsp (15ml) oil. Roast in the oven until charred and cooked, 15-20 minutes.
Place charred vegetables in a blender with the remaining oil, garlic, paprika, rosemary, hot sauce, Worcestershire sauce, lemon juice, vinegar, and a big pinch of salt and black pepper. Blend until smooth.
Tip the sauce into a bowl with the chicken, and toss well. Set aside to marinate overnight in the fridge, or for minimum of 6 hours.
Remove the chicken from the fridge to come to room temperature.
In the meantime, get the braai lit. While very hot, put the corn on the braai to char, turning often. Then remove from the heat and slice the kernels off the cob. Place kernels in a bowl with the red and white cabbage, carrots and spring onions.
Mix together the mayonnaise, lemon juice and zest, smoked paprika, hot sauce, and a sprinkle of salt and pepper.
Add the dressing to the slaw and mix well. Top with chopped coriander
Grill the chicken pieces on the braai until charred and cooked through.
Serve the spicy chicken with fresh slaw on the side.