BBQ-glazed spatchcock chicken with crunchy slaw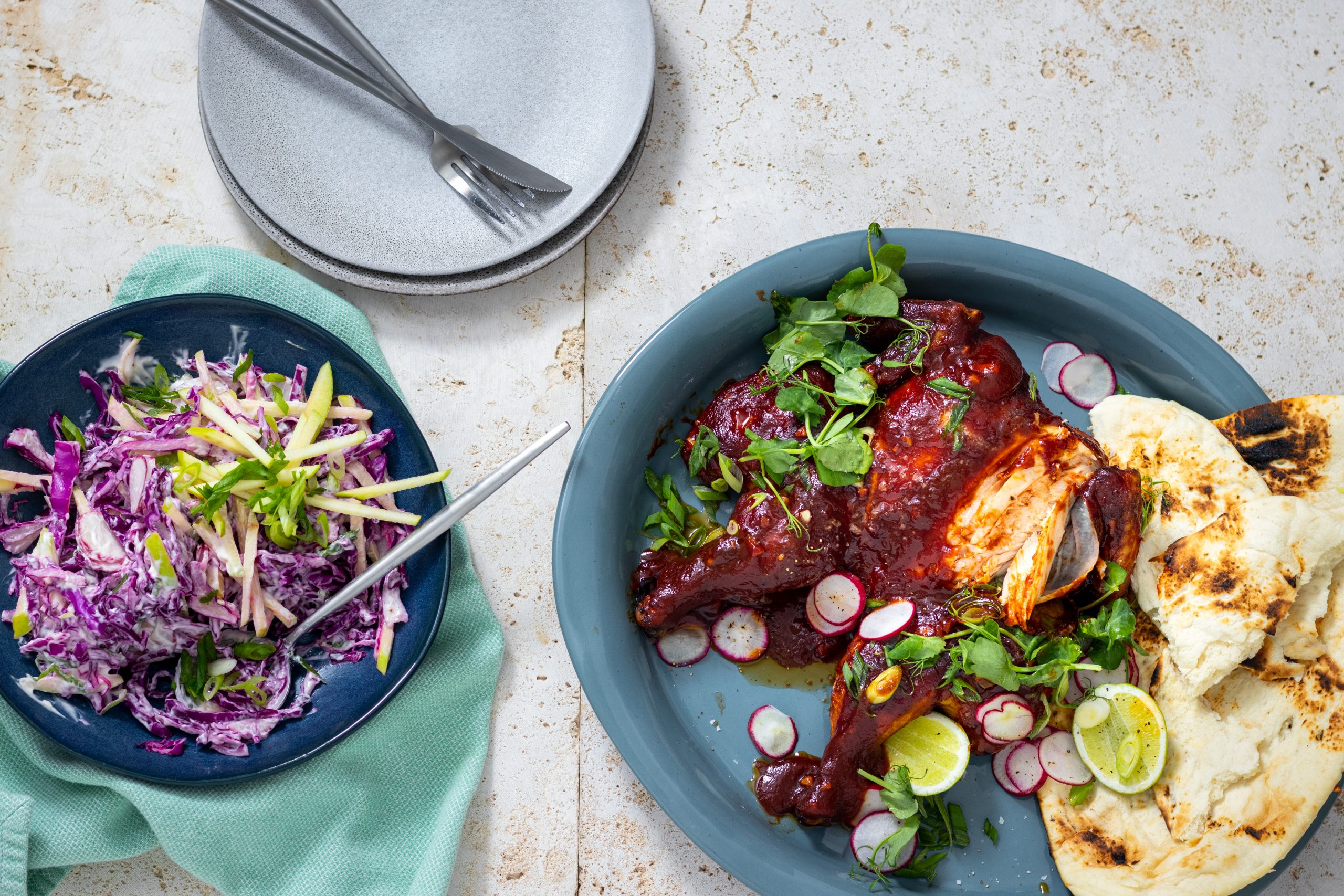 Prep time
15min

Cook time
50min

Serves
6
Make a double batch of the BBQ sauce, store in the fridge, and use to jazz up weeknight meals.
Ingredients:
BBQ sauce:
2 cups tomato sauce
½ cup white vinegar
¼ cup Worcestershire sauce
½ cup light brown sugar
1 Tbsp Dijon mustard
2 Tbsp paprika
3 garlic cloves, chopped
salt and milled pepper
1 whole bird, spatchcocked
Slaw:
½ red cabbage, shredded
2 apples, sliced
2 spring onions, sliced
3-4 radishes, sliced (optional)
2 Tbsp mayonnaise
salt and milled pepper
flat breads for serving
Method:
Combine all the sauce ingredients in a pot. Simmer gently for about 8-10 minutes. Season well.
Preheat the oven to 180°C.
Place the chicken on a lined baking tray and season well.
Coat the chicken generously with a third of the BBQ sauce and bake in the oven for 20 minutes.
Remove from the oven, turn over the chicken, cover with another third of the remaining sauce, and roast for a further 15 minutes.
Remove once more and turn the chicken over so that the breast side faces upwards.
Coat with the remaining sauce, drizzle with butter and lemon juice, and roast for a further 15 minutes or until cooked through and golden.
Combine the slaw ingredients and season well.
Serve your chicken with crunchy slaw and flat breads, garnish with lemon or lime wedges, and sprinkle with fresh herbs.
Cook's note
: For a healthier alternative, substitute the sour cream the slaw with plain yoghurt.