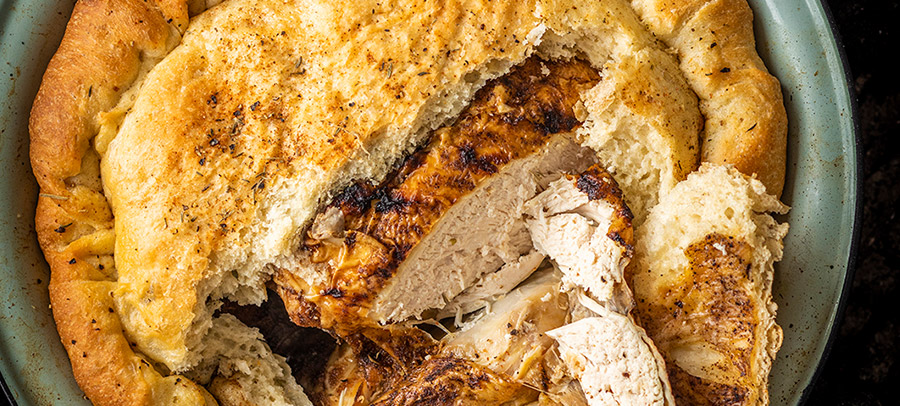 Prep time
60min

Cook time
60min

Serves
7
Pot bread ('potbrood') filled with spicy chicken is about to become your next braai favourite. Lekker!
Ingredients:
Bread
2½ cup (625ml) flour
7g yeast
a pinch of salt
1 tsp (5ml) sugar
1½ cups (375ml) water
2 tsp (10ml) mixed herbs
Chicken
1kg whole chicken
2 tbsp (30ml) braai mixed spice
Method:
Combine flour, yeast, salt and sugar slowly. Pour in the water, stirring to form a firm dough.
Place on a floured surface and knead for 5 minutes. Place dough in a bowl, cover and place in a warm area for 40 minutes.
Prepare the coals in the Weber until they've reached a moderate heat.
Place the chicken under the cover and cook for 25 minutes, or until the chicken is almost cooked.
Line an enamel pan or pot with half the dough. Place chicken in the centre of the pan and cover with the left-over dough, sealing the sides. Sprinkle mixed herbs on top.
Cover the bread pan with foil and place in the Weber for 30 minutes.
 Tip:
You can bake the bread in the oven instead of the Weber. The bread also makes for delicious padkos.