CREAMY CHICKEN BREASTS IN A SPINACH & PARMESAN SAUCE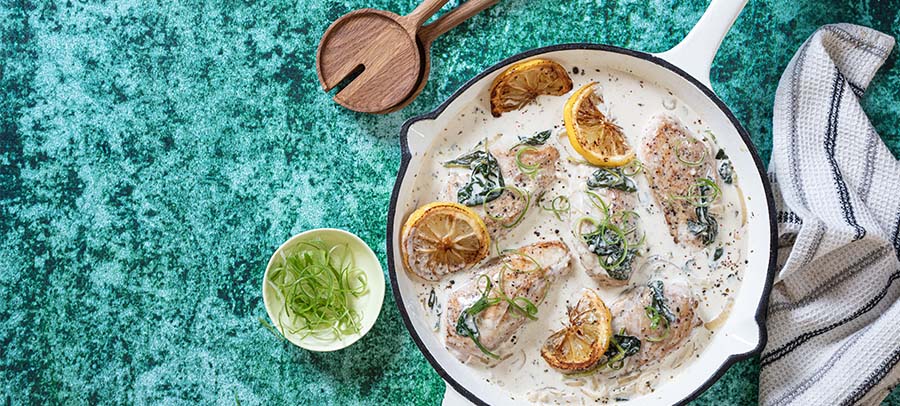 Prep time
10min

Cook time
20min

Serves
4
You can't go wrong with this dinner-party classic.
Ingredients:
1 x pack chicken breasts
15g butter
15ml olive oil
1 large onion, sliced
4 garlic cloves, finely chopped
5ml oregano, fresh or dry
125ml parmesan cheese, grated
350ml baby spinach
125ml chicken stock
250ml cream
juice of 1 lemon
8 basil leaves
salt and pepper
Method:
Season the chicken breasts generously with salt and pepper.
Put the butter and olive oil in a skillet over high heat. Once hot, add the chicken breasts. Sear for about 4 minutes, until they have good colour; then remove from the pan and put aside.
Turn the heat down to medium low and add the onions, garlic, and oregano. Sauté until soft.
Add the chicken stock and cream, and bring to a simmer.
Add the parmesan cheese and baby spinach, and stir through.
Lastly, add the chicken breasts and cover with a lid. Allow to simmer gently for 5 minutes, or until the chicken is cooked through.
Remove from the heat and squeeze over the juice of a lemon. Garnish with the basil leaves, and tuck in.