Flame-grilled chicken Prego rolls with spiced potato wedges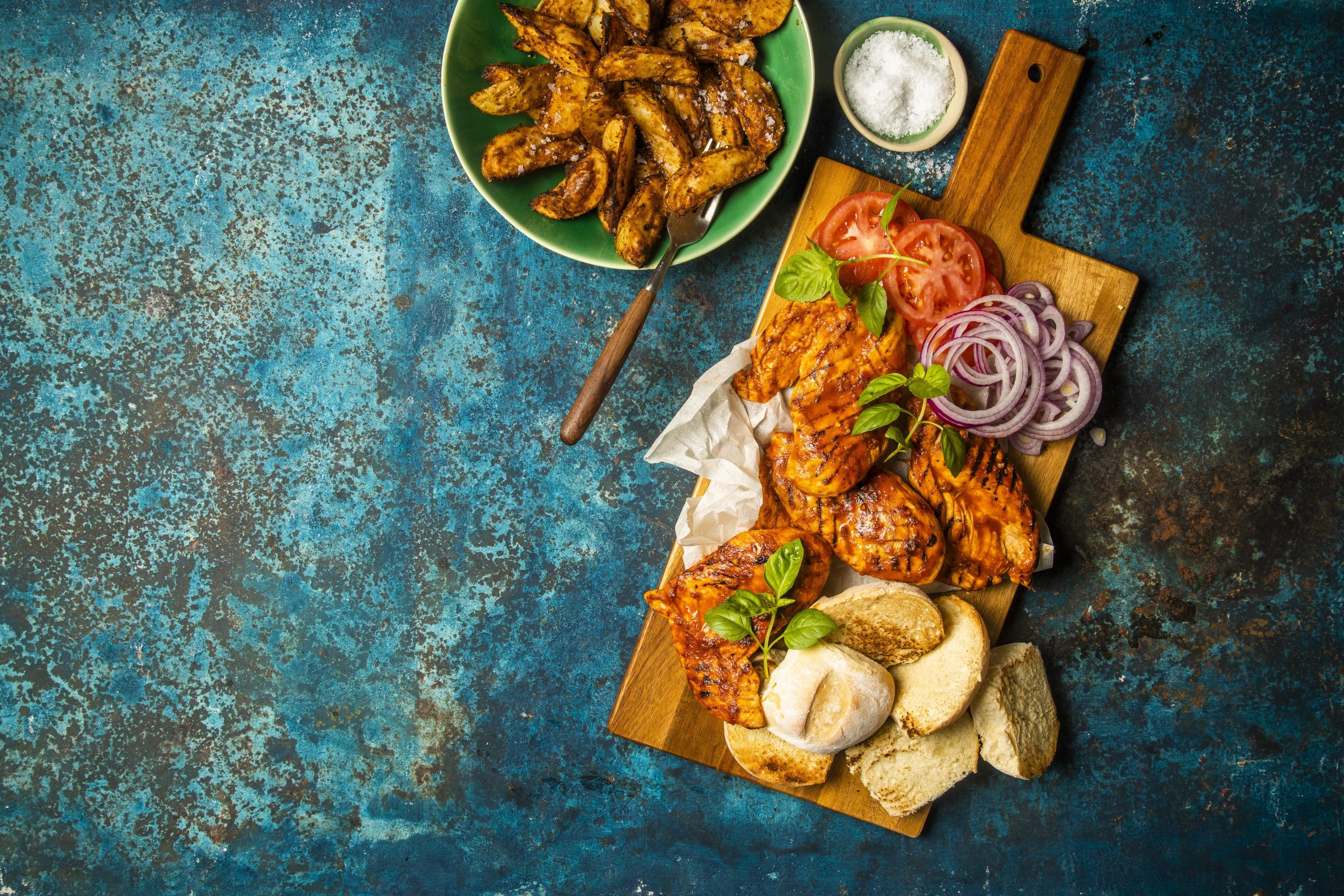 Prep time
30min

Cook time
45min

Serves
4
A sure crowd-pleaser that's simple to prepare.
Ingredients:
For the chicken
4 chicken breast fillets
¼ cup (60ml) peri-peri sauce
2 Tbsp (30ml) harissa
1/3 cup (80ml) passata sauce
2 cloves garlic, finely minced
½ Tbsp (7ml) brown sugar
For the potato wedges
4-6 medium-large waxy potatoes, scrubbed
1 Tbsp (15ml) canola oil
1 tsp (5ml) smoked paprika
1 tsp (5ml) garlic powder
1 tsp (5ml) onion powder
1 tsp (5ml) barbeque spice powder
Salt and milled pepper
Method:
Preheat the oven to 200°C.
Prepare the chicken breasts by placing them on a board between cling film or in a zip lock bag if you prefer. Using a rolling pin, gently bat the breasts, so they are even in thickness throughout. Take care not to bat too thin, just even.
In a bowl, whisk the peri-peri sauce, harissa, passata sauce, garlic, lemon juice and sugar together.
Add the chicken breasts and massage them through the sauce. Allow them to marinate for at least 1 hour while you prepare your grill and other components.
In the meantime, prepare the potato wedges: Slice the potatoes into 6-8 wedges (depending on the size).
Place the potatoes in a mixing bowl and drizzle over the oil. Toss to coat well.
In a small bowl, mix the smoked paprika, garlic powder, onion powder, barbeque spice and a generous pinch of salt together.
Add this to the potatoes and toss to coat evenly.
Line a tray with foil and lightly grease. Spread the wedges over the tray and bake in the oven for 35-45 minutes tossing halfway through the cook. Bake until crispy on the outside and soft on the inside.
Slice your Portuguese rolls in half and put them cut side down on the grill to get some
colour. While warm, spread some butter over both sides.
Grill the marinated Prego chicken breasts until charred, caramelised, and cooked through.
Layer the cooked chicken onto the rolls, and top with slices of tomato and onion.
Serve with wedges and mayonnaise on the side.