Tempura-battered chicken bites
with sweet-and-sour dipping sauce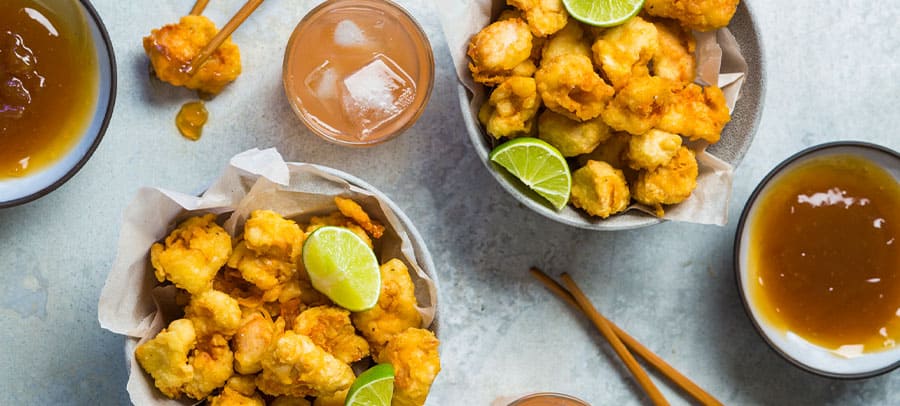 Prep time
30min

Cook time
20min

Serves
4
These scrumptious chicken morsels is perfect dinner-party fare! Up the yum factor with sweet-and-sour sauce.
Ingredients:
500g chicken breast fillets, cut into 2x2cm blocks
Canola oil, for deep frying
Tempura batter
¾ cup cornflour
¼ cup flour, plus extra to dust before battering
1 tsp baking powder
½ tsp salt
¼ tsp pepper
½ cup water
1 egg, slightly beaten
Sauce
1 cup pineapple juice
1/3 cup water
3 tbsp vinegar
1 tbsp soy sauce
½ cup packed brown sugar
3 tbsp cornflour
Method:
To make the tempura batter, mix the cornflour, flour, baking powder, salt and pepper in a bowl. Add the water and egg, and stir until the mixture is smooth.
Heat the canola oil in the fryer. Dust the chicken cubes with flour and dip into the tempura batter. Put the chicken into the hot oil immediately and cook until golden brown. Move the meat around in the oil to make sure it doesn't stick. Once the chicken is cooked, put it onto a kitchen towel to soak up the excess oil.
To make the sauce, mix the pineapple juice, water, vinegar, soy sauce, brown sugar and cornflour in a saucepan. Cook over medium heat, stirring constantly until the sauce thickens.
Serve immediately.