Chicken and boerewors bake with peppadews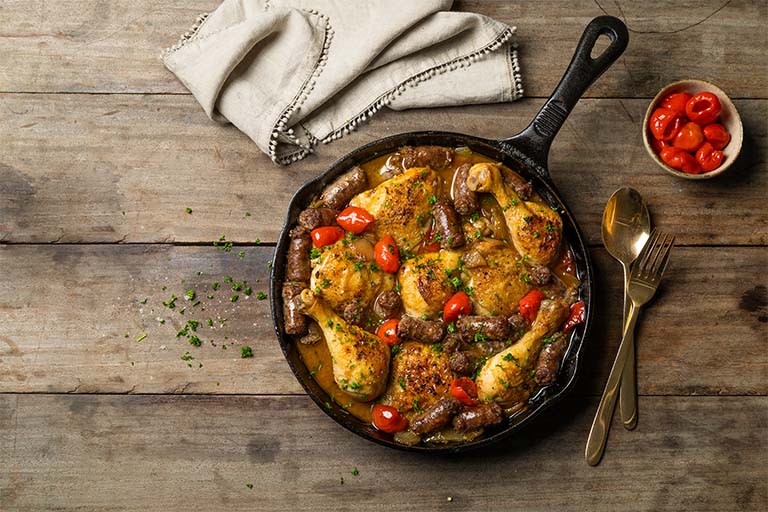 Prep time
15min

Cook time
50min

Serves
4
The entire family will enjoy this flavourful dish.
Ingredients:
15ml olive oil
1 pack boerewors, cut into 5cm pieces
1 pack chicken drumsticks and thighs
2 large onions, chopped into chunks
1 red bell pepper, sliced
6 garlic cloves, grated
400ml white wine
400ml chicken stock
½ cup peppadews, roughly chopped
1 lemon, juiced
2 sprigs rosemary
20g parsley, roughly chopped
salt
Method:
Heat the oil at a high temperature in a large skillet. Colour the boerewors, but don't cook through.
Remove the boerewors from the skillet and turn down the heat to medium.
Season the chicken pieces and add to the skillet, skin-side down. Brown the chicken and then remove from the heat.
Add the onions, bell pepper and garlic, and sauté until slightly softened and coloured.
Add the wine and allow to boil for about 5 minutes until the alcohol has cooked out.
Add the stock, peppadews, lemon juice, and rosemary. Boil for a further 5 minutes.
Add the chicken to the skillet and place in the oven. Bake for 15 minutes and then add the boerewors. Continue to bake for a further 15 minutes.
Check to see if the chicken is cooked through. Either cook for a few more minutes or remove from the oven.
Sprinkle with freshly chopped parsley and serve.