Tangy, spicy Asian-inspired wings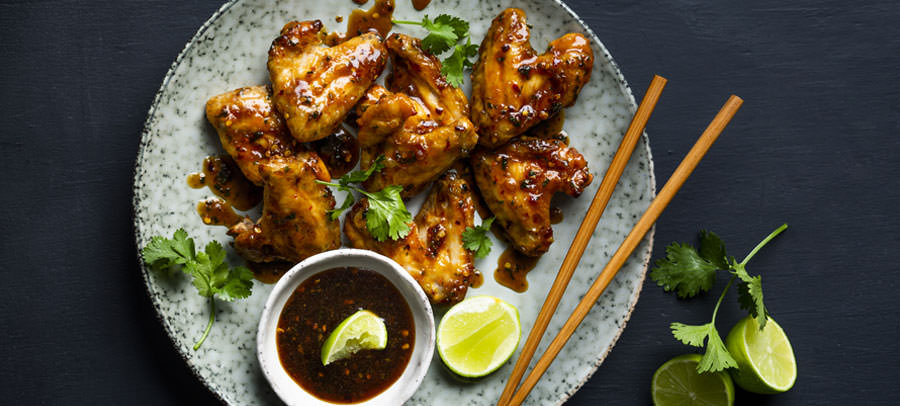 Prep time
20min

Cook time
30min

Serves
2
If there was ever a dish that's both delicious and versatile, it's our Asian-inspired chicken wings. Perfect for a party!
Ingredients:
Flour mixture
½ cup plain flour
1 tbs cornflour
1 tsp salt
½ tsp garlic powder
Pinch of cayenne pepper
Pinch of black pepper
Sauce
1 garlic clove, finely minced
2cm ginger, grated or finely minced
5 sprigs coriander, stems and leaves finely minced
¼ cup honey
1 tbs lemon juice
2 ½ tsp light soy sauce
1 tsp coconut oil
1 tsp sesame oil
1 tsp chilli flakes
1 tsp water
1 tsp cornflour
Method:
Preheat the oven to 260°C.
To make the flour mixture, mix the plain flour, cornflour, salt, garlic powder, cayenne pepper and black pepper in a shallow bowl. Roll the wings one at a time to evenly coat them in the flour mixture. Put the coated wings onto a greased baking sheet and spray with cooking spray. Bake for 25 to 30 minutes.
To make the sauce, mix the garlic, ginger, coriander, honey, lemon juice, soy sauce, coconut oil, sesame oil, chilli flakes and water in a small saucepan, and bring to the boil. Once boiled, turn the heat to low and slowly stir in the cornflour. Add more cornflour if you'd like the sauce to be a bit thicker.
Toss and coat the wings with the sauce in a large bowl.
Serve immediately.