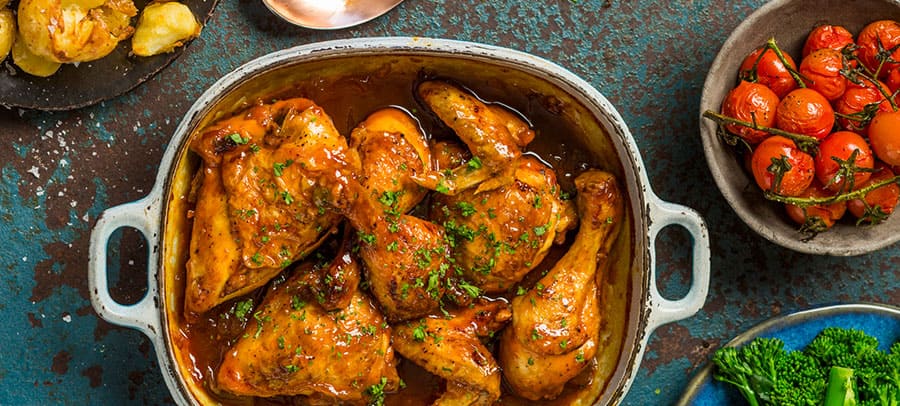 Prep time
10min

Cook time
45min

Serves
3
If you have adventurous taste buds, give this recipe a try. The combo of honey and hot sriracha sauce is simply divine!
Ingredients:
1 x braai pack of chicken
Salt and pepper
2 tbsp cooking oil
3 cloves garlic, minced
1 large onion
½ cup white wine
1 cup chicken stock
¼ cup Sriracha
1 tbsp soy sauce
½ cup honey
¼ cup parsley, chopped
500g tenderstem broccoli
Method:
Preheat the oven to 220°C.
Season the chicken pieces with salt and pepper. Heat the cooking oil in a nonstick pan and fry the chicken for about 5 minutes until the skin is golden brown. Once the skin is crispy, remove from the pan and set aside.
Add the garlic and onion to the pan, and sauté for two minutes before adding the white wine to deglaze.
Reduce the wine slightly before adding the chicken stock, Sriracha sauce, soy sauce and honey. Cook until the sauce has combined and thickened slightly.
Pour the sauce into an ovenproof casserole dish, add the chicken, skin side up, and bake until cooked through and sauce is thick and sticky.
Garnish with parsley and serve with steamed tenderstem broccoli.