HONEY-BALSAMIC TOMATO BAKED CHICKEN WITH FRESH BASIL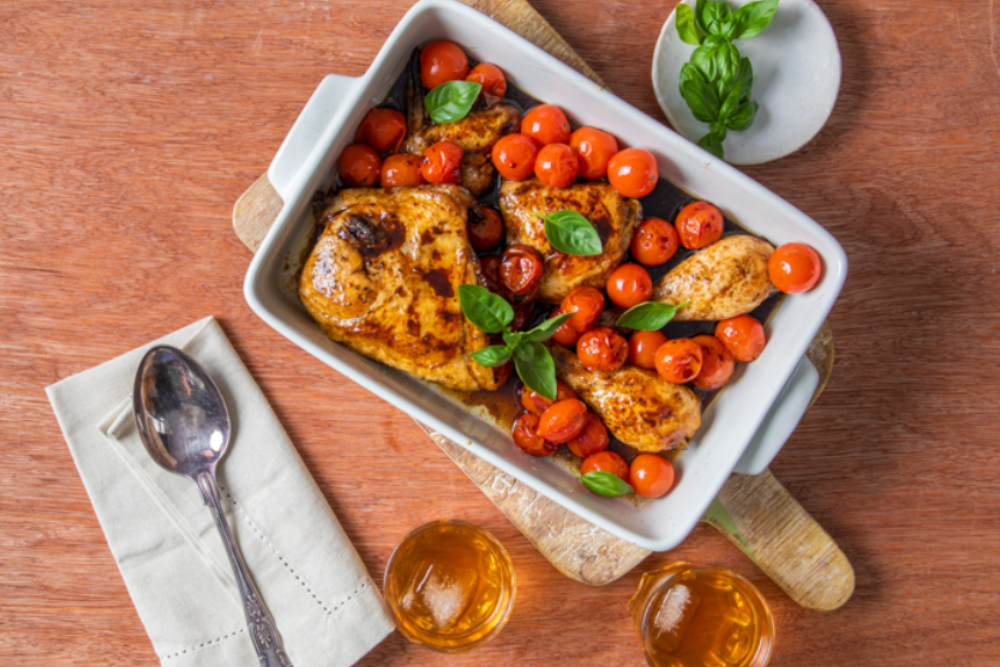 Prep time
15min

Cook time
1h

Serves
4
The honey adds an incredible stickiness to the chicken balanced by the balsamic. The perfect speedy glaze!
Ingredients:
1 x County Fair Chicken Braai pack (5 pieces)
1/3 cup (80ml) honey
¼ cup (60ml) balsamic vinegar
350g cherry tomatoes
A handful of basil leaves
Olive oil
Salt and milled black pepper
Method:
Preheat the oven to 180°C.
Place the chicken pieces into an oven-roasting dish and drizzle with olive oil. Season with salt and pepper.
Roast for 30 minutes.
Whisk the honey and balsamic vinegar together.
Remove the chicken from the oven and pour over the honey-balsamic glaze.
Scatter over the cherry tomatoes and return to the oven. Cook for 40 minutes more or until cooked through.
Remove from the oven and set aside to rest for 10 minutes. Top with fresh basil and serve.