Butter chicken curry with vetkoek and sambals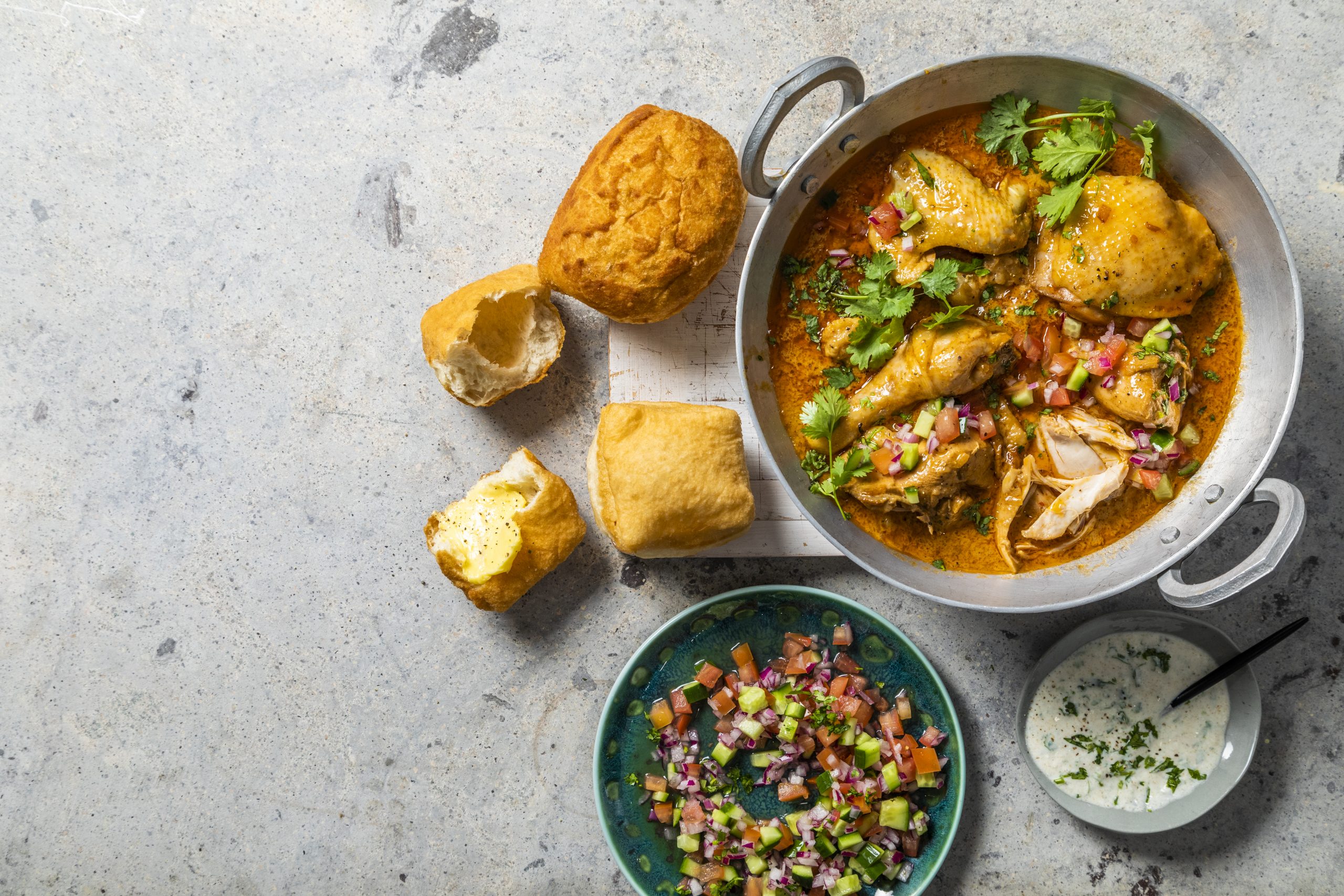 Prep time
60min

Cook time
45min

Serves
6
This delicious curry needs no introduction. Pairing it with sambals cuts through the richness of the sauce.
Ingredients:
1 pack (2.2kg) chicken braai pack
salt and milled pepper
1/3 cup melted butter
1 cup plain yoghurt
3 Tbsp butter-chicken spice mix
a glug of oil
2 onions, chopped
4 garlic cloves, chopped
1 Tbsp fresh ginger, grated
2-3 fresh or dried curry leaves
3 Tbsp tomato paste
2 Tbsp sugar
2 cups chicken stock
4 medium potatoes, peeled and chopped
1 can coconut milk (optional)
Sambal:
1 red or white onion, chopped
4 salad tomatoes, chopped
¼ cucumber, chopped
1/3 cup white vinegar
3 Tbsp sugar
salt and milled pepper
For serving:
fresh coriander
vetkoek, rice, naan or roti
Method:
Season your chicken well and place in a large bowl.
Add butter, yoghurt and spice mix. Marinate for at least 1 hour.
In a large pot, heat oil and fry onions, garlic, ginger and curry leaves until fragrant.
Add tomato paste and sugar, and cook for 1 minute.
Add stock and scrape the bottom of the pot to incorporate all those flavourful bits.
Add the chicken, including the marinade. Partially cover with a lid and allow to simmer gently for 15 minutes.
Add potatoes and coconut milk, and simmer for a further 20-30 minutes or until the potatoes and chicken have cooked through.
Stir through the coriander, add a squeeze of lemon juice, and season well.
Combine the sambal ingredients and season.
Serve your butter chicken curry topped with sambal. Enjoy with vetkoek, rice, naan or roti.