STICKY HONEY, SOYA CHICKEN SERVED WITH A ZESTY RICE SALAD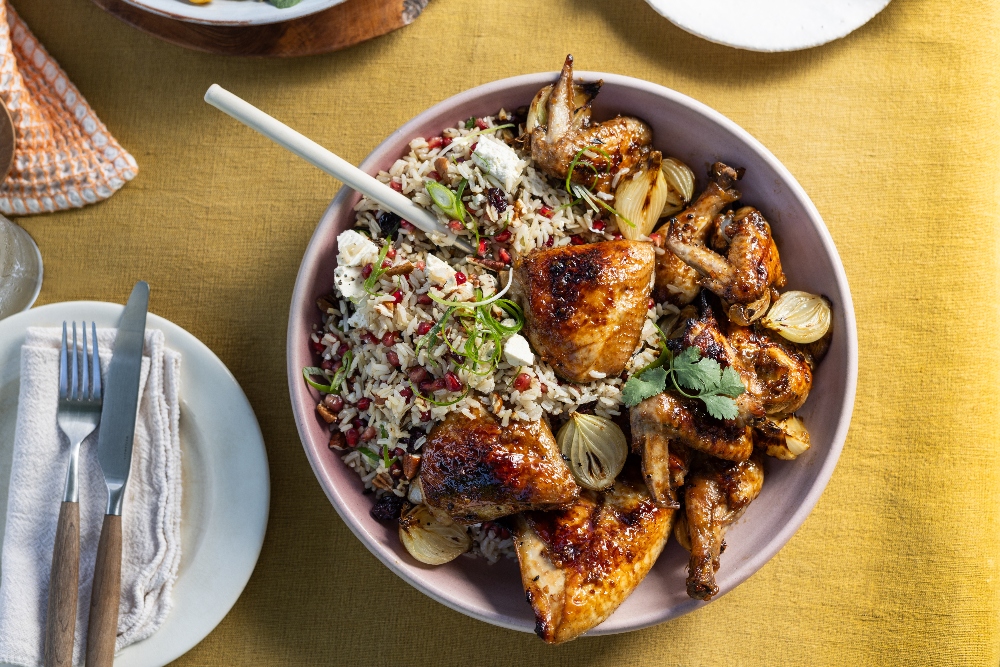 Prep time
30min

Cook time
1h

Serves
4
Sticky business, but oh so satisfying!
Ingredients:
For the chicken
1 x County Fair Braai Pack
1 small bag of peeled baby white onions halved
6 cloves garlic, minced
¾ cup (180ml) honey
¾ cup (180ml) soy sauce
1 Tbsp (15ml) white wine vinegar
2 tsp (10ml) sesame oil
Crushed black pepper
For the zesty rice salad
1 cup (250ml) mixture of brown and wild rice
80g rocket, roughly chopped
1 small tub of pomegranate seeds
3 rounds of feta
¾ cup (180ml) dried cranberries
¾ cup (180ml) toasted pecans, roughly chopped
3 spring onion sliced
For the dressing
¾ cup (180ml) extra virgin olive oil
2 Tbsp (30ml) white wine vinegar
½ garlic clove, minced
1 tsp (5ml) sugar
Salt and pepper to taste
Method:
Cook the brown rice according to the packet instructions
Drain, rinse, then leave to cool.
Add all dressing ingredients in a jar and shake. Set aside.
Prepare the zesty rice salad: Place rice, rocket, cranberries, pecans, feta, pomegranates and spring onions in a bowl. Pour over the dressing and mix gently.
Place in a serving bowl and garnish with coriander.
Preheat oven to 200°C.
Line a large roasting tray with baking paper.
Mix the garlic, honey, soy, white vinegar and sesame oil together.
In a bowl, add the chicken and baby onions. Pour mixture over and mix until coated.
Place chicken pieces and onions in the roasting tray skin side down, then pour the remaining sauce over.
Bake for 25 minutes, then turn and bake for a further 25 to 30 minutes or until the chicken is browned and the glaze is sticky. If the glaze is not sticky, remove the chicken pieces and put the tray back in for a few minutes, and the sauce will reduce quickly.
Once the sauce is sticky and the chicken is cooked, serve with zesty rice salad and garnish with coriander leaves.