Cornflake crusted chicken strips with quick-and-easy spicy chakalaka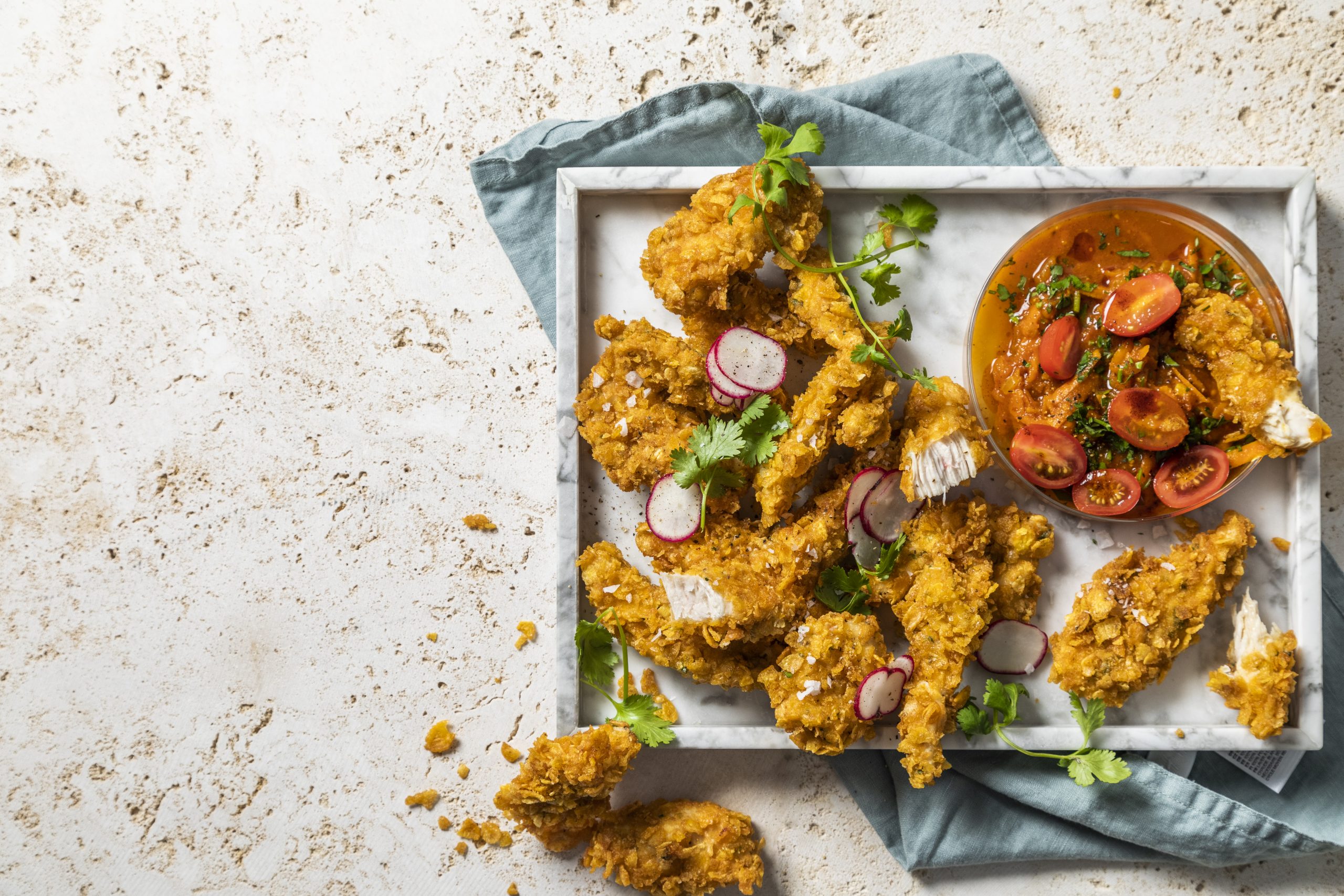 Prep time
30min

Cook time
30min

Serves
4
Use cornflakes to add an unbelievable crunch to chicken strips.
Ingredients:
Chicken:
4 x skinless chicken breasts, cut into strips
salt and pepper
30ml chopped parsley or coriander
1 cup cake flour
3 eggs, whisked
3 cups crushed cornflakes
15ml vegetable oil for frying
Chakalaka:
A glug of olive oil
1 onion, chopped
30ml medium curry powder
5ml paprika
5ml ground cumin
1 clove garlic, chopped
3 carrots, peeled and grated
1 can chopped tomatoes
10ml sugar
salt and pepper
Method:
Chicken:
● Season chicken with salt and pepper, then toss together with chopped parsley or coriander.
● In batches, dip the chicken strips into flour, egg, and crushed cornflakes respectively. Make sure to coat evenly (repeat this process for a firmer crumb).
● Deep-fry the strips in hot oil for (4-6) minutes until cooked through and golden.
● Drain on kitchen paper.
Chakalaka:
● Heat oil in a saucepan and fry the onion for 2-3 minutes until translucent.
● Add all spices and garlic, then cook for a further 2 minutes.
● Add carrots, chopped tomatoes and sugar, then simmer gently for 5 -7minutes. Finish by seasoning with salt and pepper.
Serve your crunchy chicken strips with chakalaka as a delicious dipping sauce!