Spicy chicken-wing skewers with pineapple salsa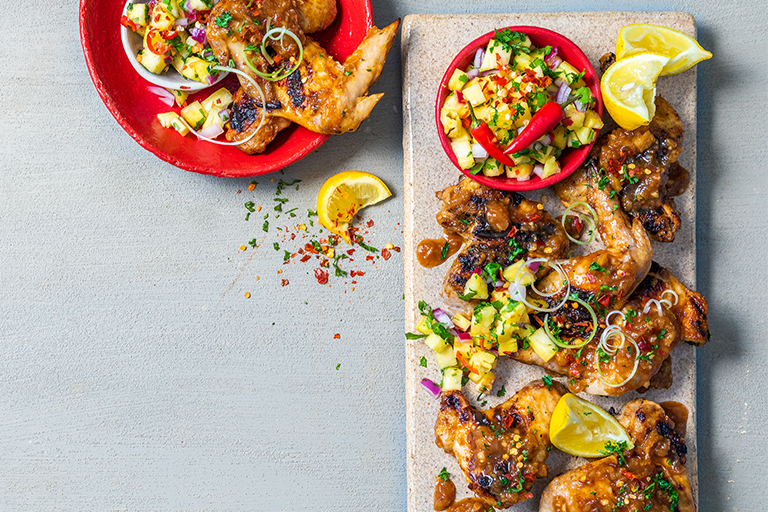 Prep time
90min

Cook time
20min

Serves
4
The combo of chicken, pineapple and chilli is simply irresistible!
Ingredients:
Chicken: 
1 tin pineapple chunks in syrup
150ml BBQ sauce
30ml soy sauce
1-2 red chillies, deseeded and roughly chopped
5ml smoked paprika
1 pack chicken wings
Salsa:
1 small pineapple, chopped into 1x1cm chunks
1 red chilli, deseeded and finely chopped
½ red onion, finely chopped
15g coriander leaves, roughly chopped
15ml lime juice
black pepper
Method:
Chicken:
Put the pineapple chunks, BBQ sauce, soy sauce, chilli, and paprika into a food processor. Blend until smooth.
Place the chicken wings in a dish. Pour over ¾ of the sauce and coat them well. Marinate for 1 hour.
Heat a grill or braai. Cook the chicken wings over a medium heat, turning every 4 minutes until crispy and cooked through. This takes about 15-20 minutes. Baste every few minutes with the remaining sauce.
Salsa:
Mix all the ingredients together and season to taste.
Serve the chicken-wing skewers hot, topped with some of the salsa. Serve the rest of the salsa on the side.