Spicy BBQ chicken sosaties and slaw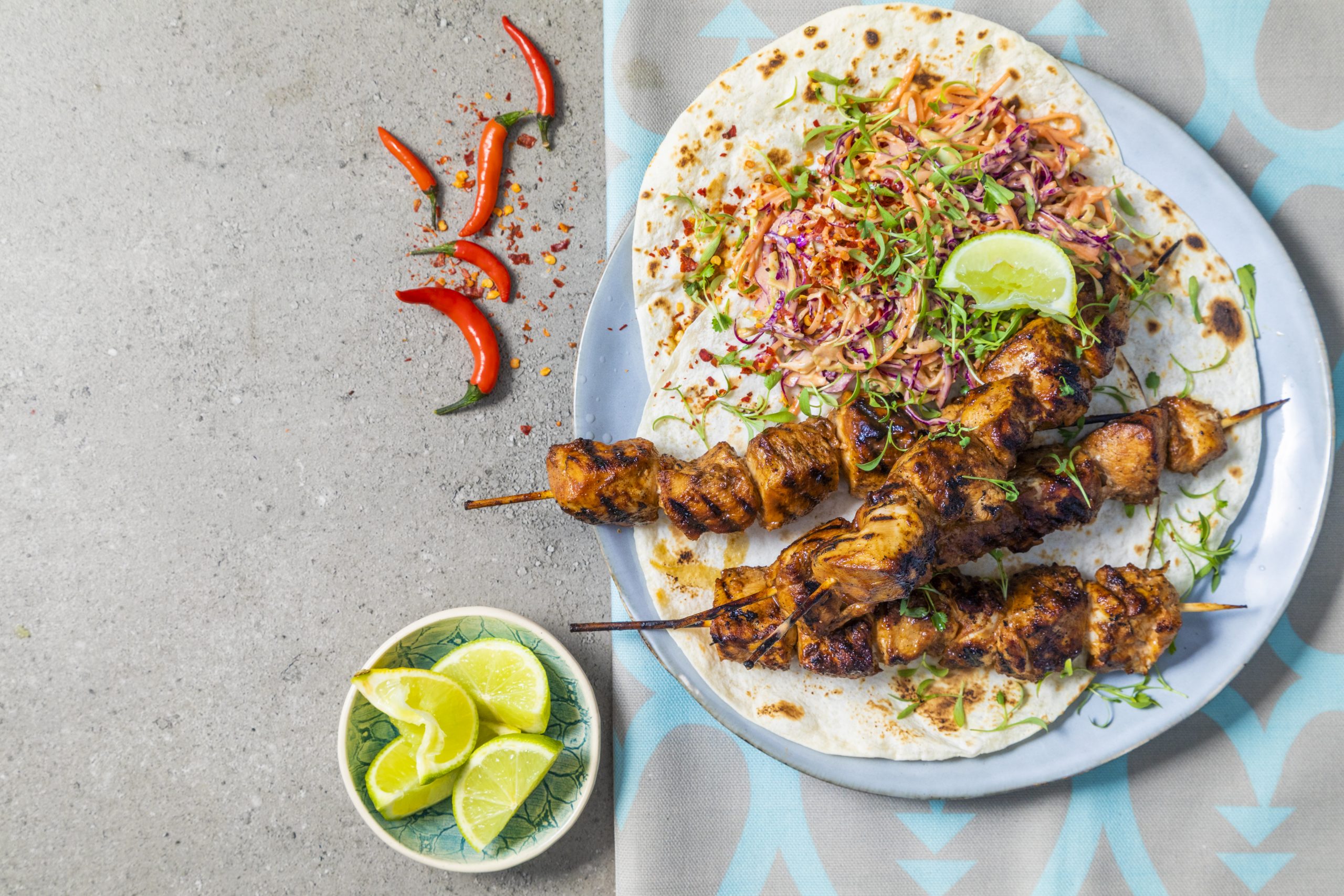 Prep time
90min

Cook time
30min

Serves
4
Give your braai an SA/USA theme and serve mouth-watering BBQ chicken sosaties.
Ingredients:
Chicken 
250ml BBQ sauce
5ml cayenne pepper
5ml smoked paprika
2 garlic cloves, grated
10ml lime juice
4 x County Fair Skinless Chicken Breasts, cut into bite-size pieces
4 skewers
Slaw
1 red baby cabbage, thinly sliced
1 white baby cabbage, thinly sliced
2 carrots, julienned
Sriracha mayo
100ml mayonnaise
40ml sriracha
5ml lime juice
4 x soft taco shells
15g fresh coriander, picked
1 lime, quartered
Method:
Chicken 
Combine the BBQ sauce, cayenne, smoked paprika, garlic and lime juice.
Divide the chicken pieces evenly onto four skewers.
Pour ¾ of the marinade over the skewers and mix them around so that they're evenly coated. Allow to marinate for at least one hour.
Heat the grill or braai to medium heat.
Cook the kebabs, turning and occasionally basting with the remaining marinade until charred and cooked through.
Slaw:
Mix all the ingredients.
Mix through 30ml of the mayonnaise.
Sriracha mayo:
Serve each skewer on top of a taco. Top with the slaw, a drizzle of mayonnaise and fresh coriander. Serve with a lime wedge on the side.