Spiced chicken salad with sweet curry dressing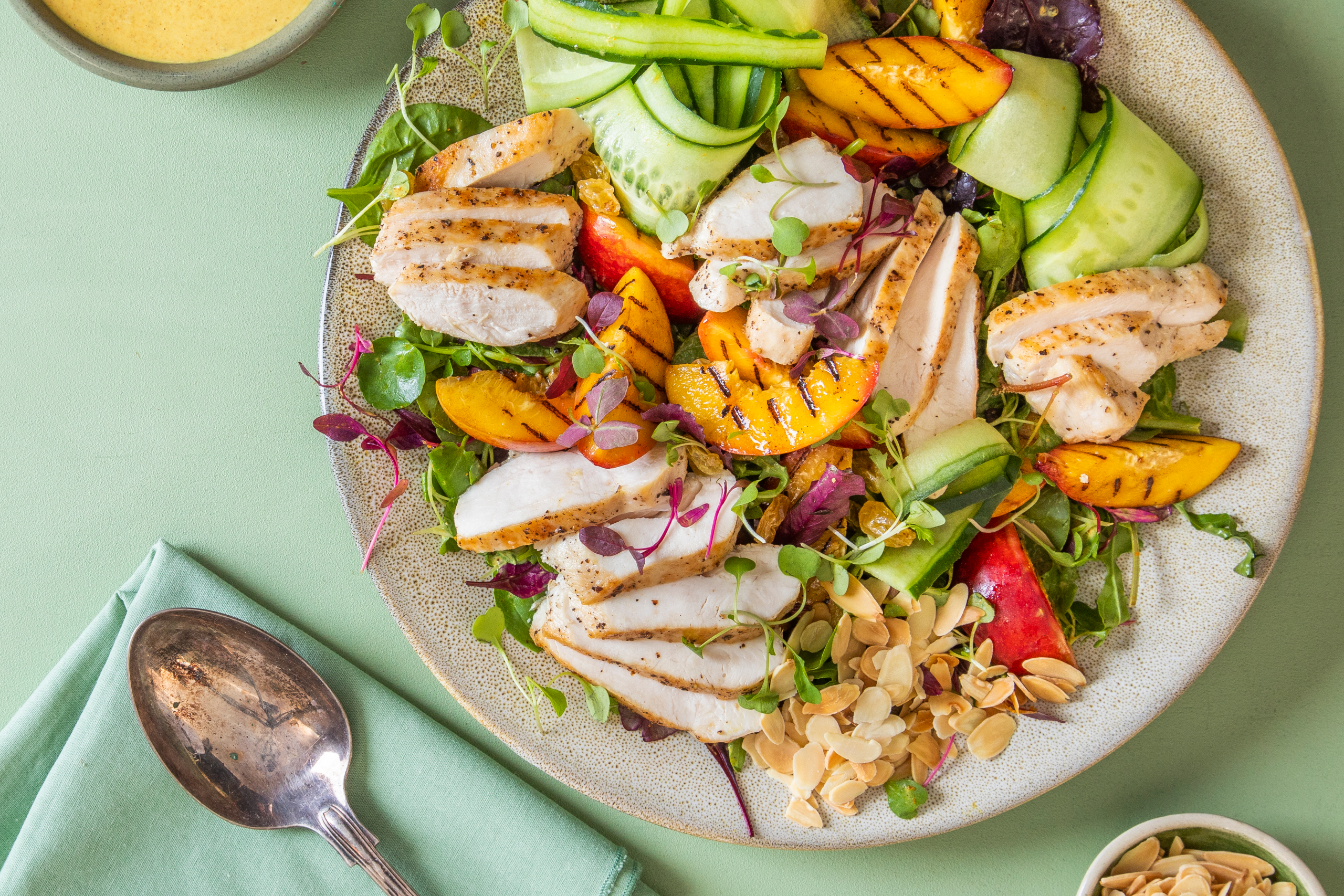 Prep time
20min

Cook time
20min

Serves
4
A fresh and light classic fit for any occasion.
Ingredients:
Chicken:
3 Tbsp (45ml) olive oil
1 x County Fair Chicken Breasts (4pcs)
Salt and milled black pepper
Dressing:
1 Tbsp (15ml) mild curry powder
½ tsp (3ml) turmeric powder
2 Tbsp (30ml) chutney
Juice and zest of 1 lemon
¼ cup (60ml) mayonnaise
¼ cup (60ml)  yoghurt
1 Tbsp (15ml) water
Salt and milled black pepper
Nectarines:
2 nectarines
1 Tbsp (15ml) olive oil
50g mixed baby spinach & rocket
1 small cucumber, peeled into ribbons
30g sultanas
50g flaked almonds, toasted, optional
Method:
For the chicken: Heat the olive oil in a pan over medium heat. Season the chicken breasts generously with salt and pepper. Add the chicken to the pan and cook, turning often, until cooked through, about 10 minutes.
Place aside to cool. Once cooled, slice into 1cm thick slices. Set aside.
Prepare the dressing: Whisk all the ingredients together, seasoning to taste with salt and pepper. Set aside.
For the nectarines: Heat a griddle pan over high heat. Halve the nectarines, and discard the pip. Then slice each half into three wedges. Lightly brush each wedge with olive oil and briefly char on the hot griddle pan. Set aside.
Assemble the salad: place the leaves in a serving dish. Arrange the grilled nectarines and cucumber ribbon around. Top with the sliced chicken. Drizzle with the dressing, and lastly, finish with the sultanas and almonds.