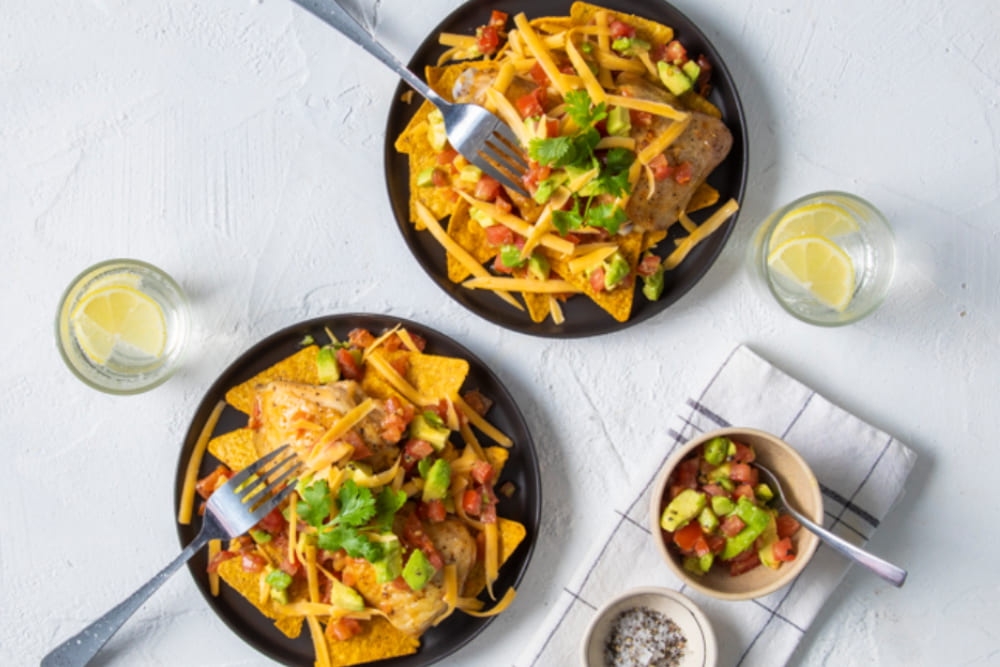 Prep time
20min

Cook time
50min

Serves
2
Taco Tuesday… Wednesday, Thursday, Friday. We can have this recipe any day of the week.
Ingredients:
1 x County Fair Chicken Thighs pack
2 large tomatoes, finely chopped
1 avocado, peeled and diced
1 large tomato, diced
100g nacho chips
½ cup (125ml) grated cheddar cheese
Olive oil
Salt and milled black pepper
Coriander (optional)
Method:
Preheat the oven to 180°C.
Place the chicken thighs in a roasting tray, drizzle with olive oil, and season with a pinch of salt and pepper.
Add the chopped tomatoes and toss well.
Roast in the oven for 50 minutes.
Place diced avocado and tomato in a bowl and season with a pinch of salt and pepper to taste. Toss gently.
Divide the nacho chips between two bowls, and top each with two cooked chicken thighs.
Add a dollop of the avocado and tomato salsa in each, and sprinkle with grated cheese.
Garnish with coriander if using, and serve.
Tip: Serve the chicken pieces whole or shredded in this recipe. Chicken is best shredded once cooled as the meat fibre is easier to tear.