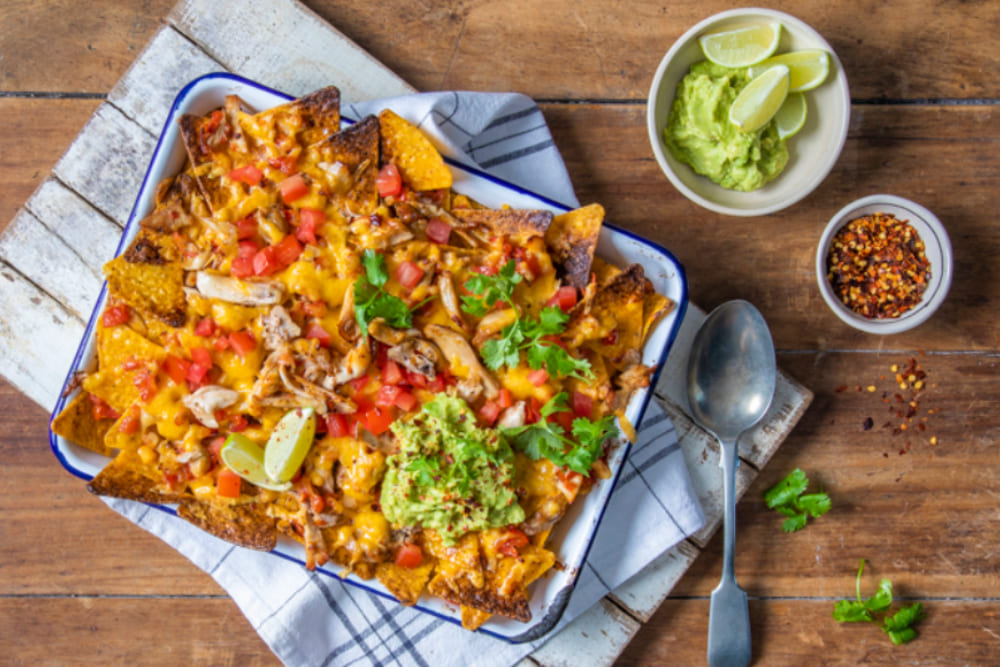 Prep time
20min

Cook time
1h

Serves
4
A tasty dinner with minimal kitchen time is a winner in our books. Try this one tonight!
Ingredients:
1 x County Fair Chicken Thighs pack
2 tomatoes, finely chopped
150g nacho chips
½ cup (125ml) cheddar cheese, grated
1 avocado
2 tomatoes, diced
Olive oil
Salt and milled black pepper
Coriander (optional)
Method:
Preheat the oven to 180°C.
Place chicken thighs in a bowl with the chopped tomatoes, a drizzle of olive oil, and a pinch of salt and pepper.  Toss well, then transfer to an oven tray. Roast for 50 minutes.
Allow the chicken to cool, then shred, discarding the bones.
Toss the shredded chicken through the tomato cooking juices.
Turn the oven onto grill.
Place the nacho chips in an oven-proof serving dish.
Top with the shredded chicken, and sprinkle with cheese.
Place under the oven grill. Grill for 10-15 minutes until the cheese is melted and golden. Be sure to keep an eye on it!
In the meantime, peel and remove the pip from the avocado. Mash lightly to leave a chunky texture. Season to taste with salt and pepper.
Remove the nachos from the oven and set aside to cool for 5 minutes.
Add the chopped tomatoes and a dollop of the mashed avocado.
Garnish with coriander, if using, and serve.