LEMON & THYME ROAST CHICKEN WITH HONEY-BUTTERNUT MASH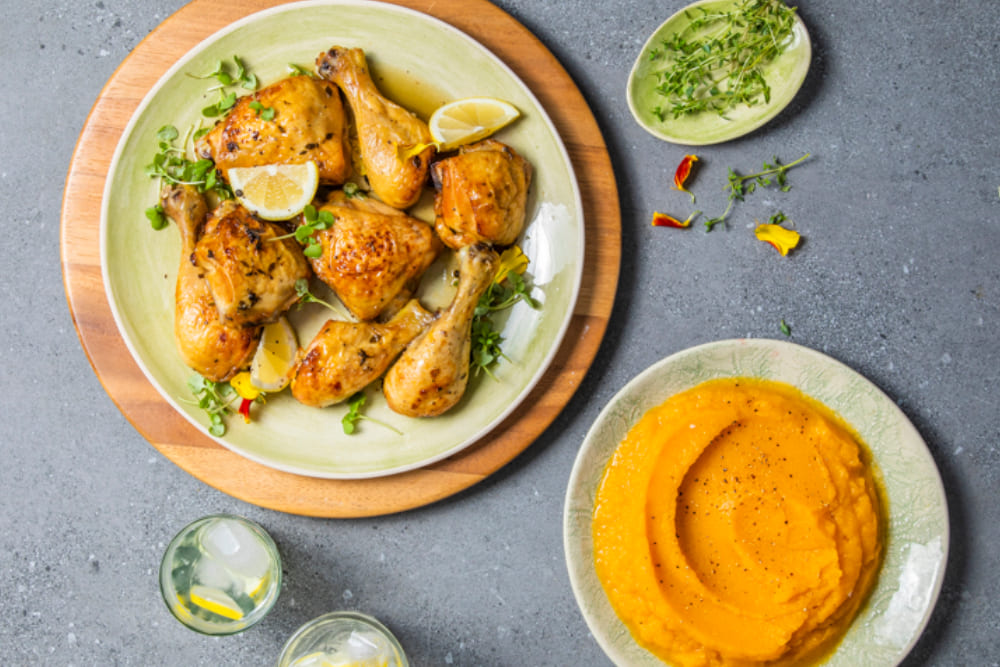 Prep time
20min

Cook time
1h

Serves
4
An easy dinner sure to impress family and guests.
Ingredients:
1 x County Fair Star pack
50ml lemon juice
1 Tbsp (15ml) fresh thyme leaves
1 medium butternut
1 Tbsp (15ml)  honey
Olive oil
Salt and milled black pepper
Method:
Preheat the oven to 180°C.
Place the chicken into a roasting dish. Mix the lemon juice, thyme, and 1 Tbsp olive oil in a small bowl—season with a pinch of salt and pepper.
Pour the lemon juice mixture over the chicken and toss well.
Roast in the oven for 1 hour.
Peel the butternut, slice it in half and discard the seeds. Cut into evenly sized cubes and place in a pot.
Cover with water, and cook over medium to high heat until tender.
Strain the liquid, then mash the butternut until smooth.
Add honey and season to taste with salt and pepper.
Divide the butternut mash between four plates.
Top with two pieces of chicken each, and serve.