Spanish chorizo chicken bake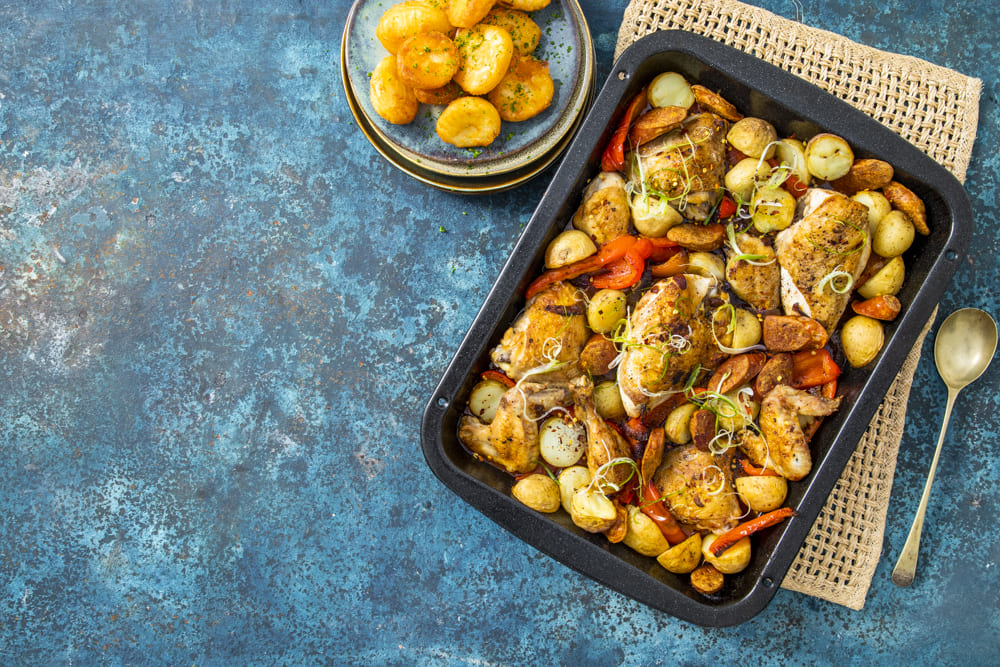 Prep time
20min

Cook time
60min

Serves
8
These Spanish flavours are a match made in heaven!
Ingredients:
1 x chicken braai pack, seasoned
12 baby potatoes, halved
30ml olive oil
250g chorizo, sliced into diagonal chunks
2 red onions, sliced
3 garlic cloves, sliced
10ml smoked paprika
2 red peppers, sliced into thick chunks
250ml chicken stock
Method:
Simmer the potatoes in salted water until al dente (i.e. just cooked).
Heat the olive oil in a pan over medium heat. Add the chorizo and sauté for a few minutes until slightly crispy.
Remove the chorizo, and then turn the heat up to high.
Add the chicken, skin-side down, and fry until golden. Remove from the pan.
Turn the heat down and add the red onion and garlic. Sauté gently for 2 minutes.
Add the paprika and peppers, and sauté for another minute.
Add the chicken and chorizo back into the pan, along with the potatoes. Give everything a good stir.
Add the chicken stock and place in the oven for 1 hour until cooked through. Top up with water, if necessary.
Serve and enjoy!