Mango atchar chicken bake with papaya salsa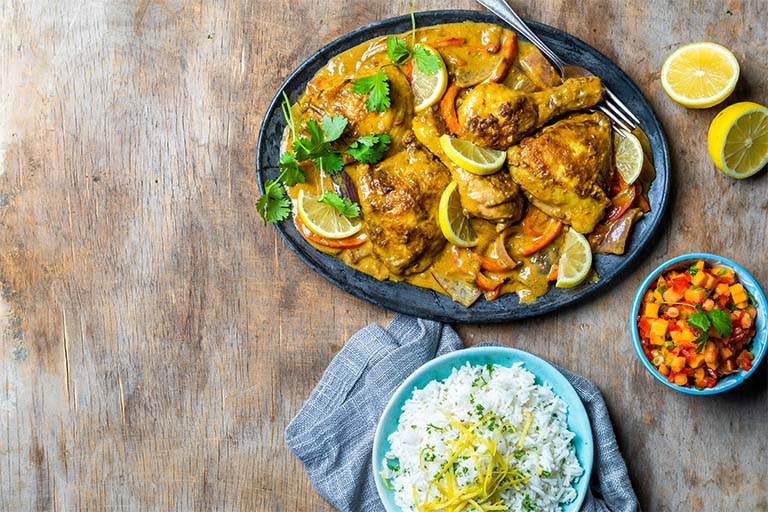 Prep time
30min

Cook time
60min

Serves
4
Ingredients:
1 pack of chicken drumsticks and thighs
2 red onions, cut into chunks
2 red peppers, sliced
250ml mango atchar
400ml plain yoghurt
1 packet brown onion soup powder
20ml chicken spice powder
20ml curry powder
10ml turmeric powder
7.5ml cumin powder
150ml chicken stock
20ml lemon juice
Spicy papaya salsa:
½ large papaya, cubed
1 red pepper, finely chopped
½ red onion, finely chopped
1 chilli, de-seeded and finely chopped
2 spring onions, finely sliced
1 lemon, juiced and zested
30g coriander, chopped
4 cups basmati rice, cooked
fresh coriander
Method:
Preheat the oven to 180°
Arrange the chicken, onions and peppers in a large baking dish.
Mix the remaining ingredients together and pour over the chicken. Stir to combine.
Place in the preheated oven and bake for 45 minutes to one hour.
Place foil over the tray halfway through the cooking process.
Spicy papaya salsa:
Combine all the ingredients together and season to taste.
To serve:
Serve the chicken bake with rice and spicy papaya salsa on the side.
Top with fresh coriander.