PUFF PASTRY TART TOPPED WITH CHICKEN, MOZZARELLA, PESTO & TOMATO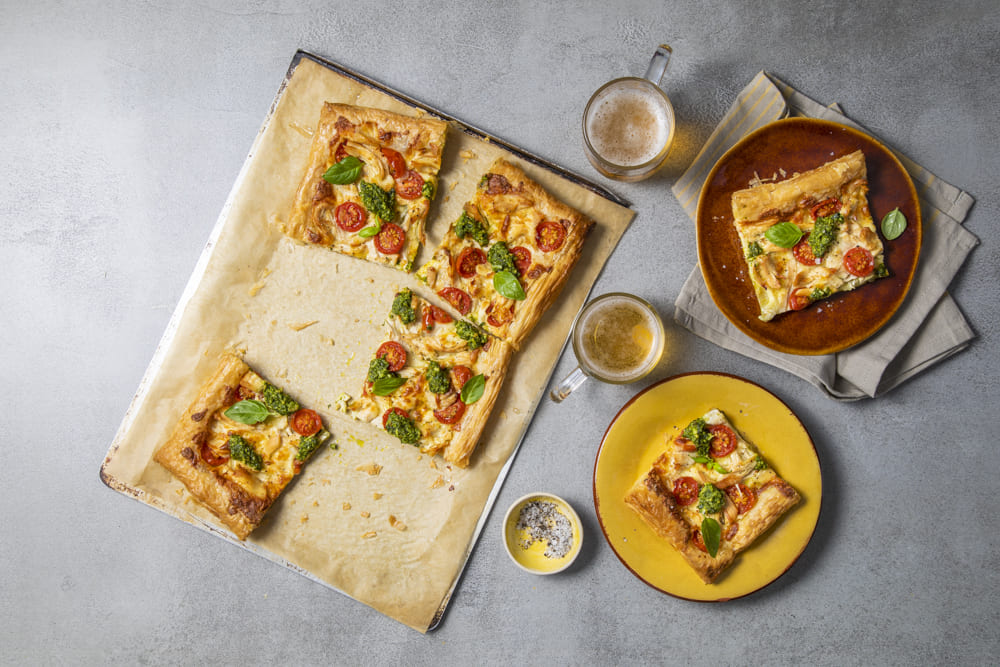 Prep time
15min

Cook time
55min

Serves
6
Puff pastry is a top freezer staple on our list. Try this recipe with a classic Italian flavour combination as a topping.
Ingredients:
1 x County Fair Skinless Chicken Breasts pack (4 pieces)
2 (400g each) rolls of frozen puff pastry, thawed
150g mozzarella, grated
1 small punnet (150g) cherry tomatoes, halved
100g basil pesto
Olive oil
Salt and milled black pepper
Fresh basil (optional)
Method:
Preheat the oven to 200°C.
Place the chicken breasts on an oven tray and drizzle with olive oil. Season with salt and pepper, and gently rub in.
Bake in the oven for 20 minutes until cooked through. Set aside to rest and cool.  Shred once cooled.
Roll the puff pastry out onto greaseproof paper, use as is or slice in half to make two more petite tarts.
Leaving a 1 ½ cm border around the edge of the pastry, sprinkle the mozzarella evenly all over the centre. Top with the shredded chicken and cherry tomatoes. Season.
Brush the edges of the puff pastry with olive oil.
Place the tart in the oven and bake for 30-35 minutes, until the edges are puffed and golden and the pastry in the centre is cooked.
Remove from the oven and dot with basil pesto.
Garnish with fresh basil; if using, slice and serve.