BUTTER CHICKEN AND AMASI FLATBREADS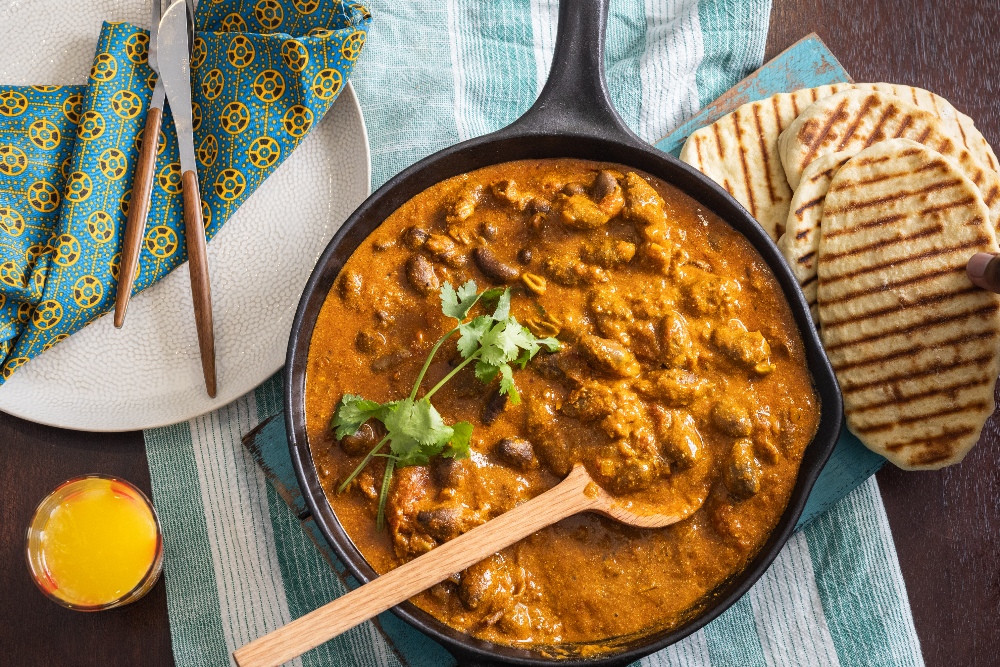 Prep time
30min

Cook time
45min

Serves
5
A classic dish with a South African twist. Amasi flatbreads will change your life!
Ingredients:
3 Tbsp (45ml) oil
1 onion, diced
1 Tbsp (15 ml) garlic and ginger paste
1 Tbsp (15 ml) curry powder
1 tsp (5 ml) turmeric
1 tsp (5 ml) cumin seeds
1 tsp (5 ml) coriander powder
500g chicken hearts - cleaned
1 Tbsp (15 ml) tomato paste
1 Tbsp (15 ml) sugar
1 can (410g) diced tomatoes
½ cup (125 ml) amasi or cream
Fresh coriander, for garnish
For the flatbreads:
2 cups (500 ml) self-raising flour
¾ cup (375 ml) amasi
2 tsp (10 ml) salt
Method:
Heat half the oil in a large pot or deep pan over high heat.
Season the chicken hearts, add to the pan and cook until browned—about 5 minutes. Remove and set aside.
In the same pot or pan, reduce the heat, add the rest of the oil and fry the onions for about 5 minutes then add the garlic, ginger, curry powder, turmeric, cumin and coriander and fry until fragrant, roughly 3-4 minutes.
Reduce the heat and add the tomato paste and sugar, frying for 2-3 minutes.
Add the canned tomato and reduce the heat to a gentle simmer. Simmer the curry sauce for roughly 20 minutes or until thickened.
Add the hearts to the curry sauce and cook for 5 minutes.
Before serving, gently stir through the amasi or cream and serve with flatbreads and fresh coriander as garnish.
For the flatbreads:
Combine the flour, salt and amasi and mix until rough dough forms. (If the mixture is too wet, add a little bit of flour; if the mixture is too dry, add another 15 ml amasi.)
Allow the dough to rest for roughly 15- 20 minutes.
Divide the dough into 6 small balls.
Gently roll out the dough in oval shapes on a lightly floured surface.
Heat a large skillet over medium heat and gently toast the dough until light brown and cooked through or cook over medium coals for about 5 minutes a side.
Serve warm.