Mieliepap-crusted chicken breasts with avo dressing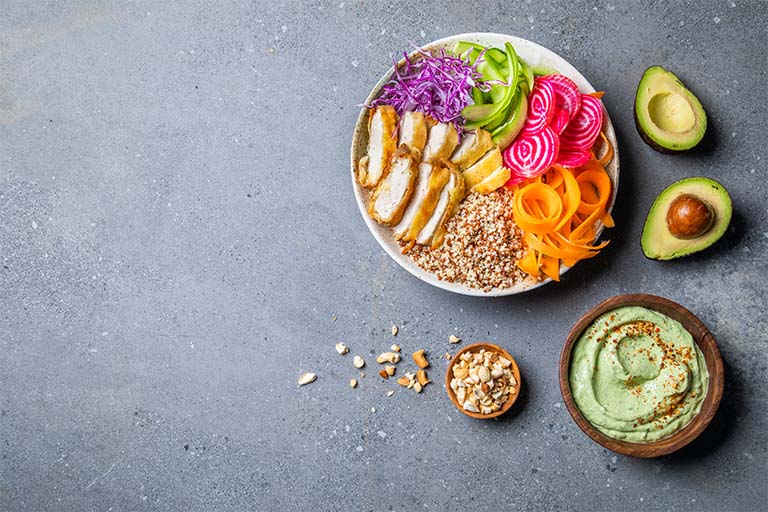 Prep time
30min

Cook time
30min

Serves
4
These bowls of deliciousness will have you craving more!
Ingredients:
Chicken breasts:
4 chicken breasts
½ cup of flour
2 eggs, whisked
1 cups mieliepap
½ lemon
Avocado dressing:
1 avocado
15ml olive oil
20g coriander, roughly chopped
½ cup plain yoghurt
30ml lime juice
zest of 1 lime
salt and pepper
2 cups cooked quinoa
50g baby spinach
2 large carrots, peeled into ribbons
4 baby cucumbers, sliced into ribbons
2 beetroots, thinly sliced
4 radishes, thinly sliced
1 baby red cabbage, thinly sliced
1 avocado, sliced
1 red pepper, sliced
50g cashew nuts, toasted
fresh coriander
Method:
Chicken:
Preheat the oven to 190°
Put the chicken breasts between two pieces of clingwrap. Bat them out gently using a rolling pin.
Coat the chicken breasts in the seasoned flour, dunk in the whisked egg, and coat evenly in the mieliepap.
Place the breasts on a baking tray lined with baking paper.
Bake in the oven for 20 minutes and then check to see if they're cooked through. If not, cook them a little bit longer.
Remove from the oven and drizzle with lemon juice.
Avocado dressing:
Blend all the ingredients together until smooth.
Season to taste.
To assemble:
Place ½ a cup of cooked quinoa into each bowl.
Slice the chicken breasts into strips and evenly distribute them between the bowls.
Arrange all the vegetables in the bowl and drizzle with the avocado dressing and cashew nuts.
Top with fresh coriander.