Turkish chicken kebabs with yoghurt hummus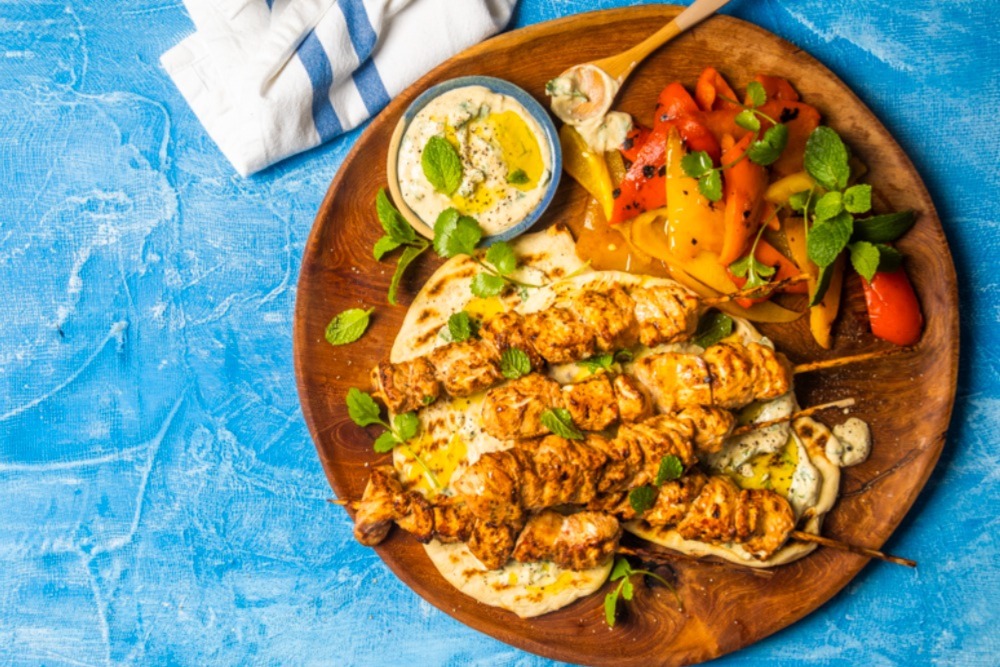 Prep time
30min

Cook time
30min

Serves
4
Kebabs are a great way to enjoy chicken fillets.  The Middle Eastern flavours in this version are a worthy update!
Ingredients:
For the chicken
4 chicken breast fillets
1 cup (250ml) plain yoghurt
4 cloves garlic, finely minced
Zest and juice of 1 lemon
2 Tbsp (30ml) tomato paste
2 tsp (10ml) chilli flakes
1 tsp (5ml) cumin powder
1 tsp (5ml) coriander powder
2 tsp (10ml) paprika
Salt and milled pepper
1 red pepper
1 yellow pepper
1 Tbsp (15ml) olive oil
For the yoghurt hummus
¼ cup (60ml) full-fat plain yoghurt
½ cup (125ml) hummus
Juice and zest of ½ lemon
5g coriander, chopped
5g mint, chopped
Method:
Slice the chicken into even chunks, about 1.5cm x 1.5cm.
In a bowl, whisk together the yoghurt, garlic, lemon zest and juice, tomato paste, chilli flakes, cumin, coriander, paprika, and a big pinch of salt and pepper.
Add the chicken chunks and mix well. Place in the fridge and allow to marinate overnight, or for a minimum of 4 hours.
While the braai or grill is heating up, place the chicken chunks onto skewers, either 4 large or 8 small.
While the grill is very hot, brush the peppers with olive oil and place them on the heat to blacken all over.
Remove the peppers from the heat and place them in a bowl. Cover with clingfilm and allow to steam for 15-30 minutes, then discard the stalk and pips and peel the skin off. Slice the peppers into 1cm wide strips
Prepare the yoghurt hummus dressing – Mix all the ingredients together. Season to taste with salt and pepper.
Grill the chicken skewers on the grill until nicely charred and cooked through.
Place each on top of a flatbread. Top with slices of peppers and drizzle over the dressing. Top with picked herbs and a lemon wedge. Serve.