Lime grilled chicken wings with a pineapple slaw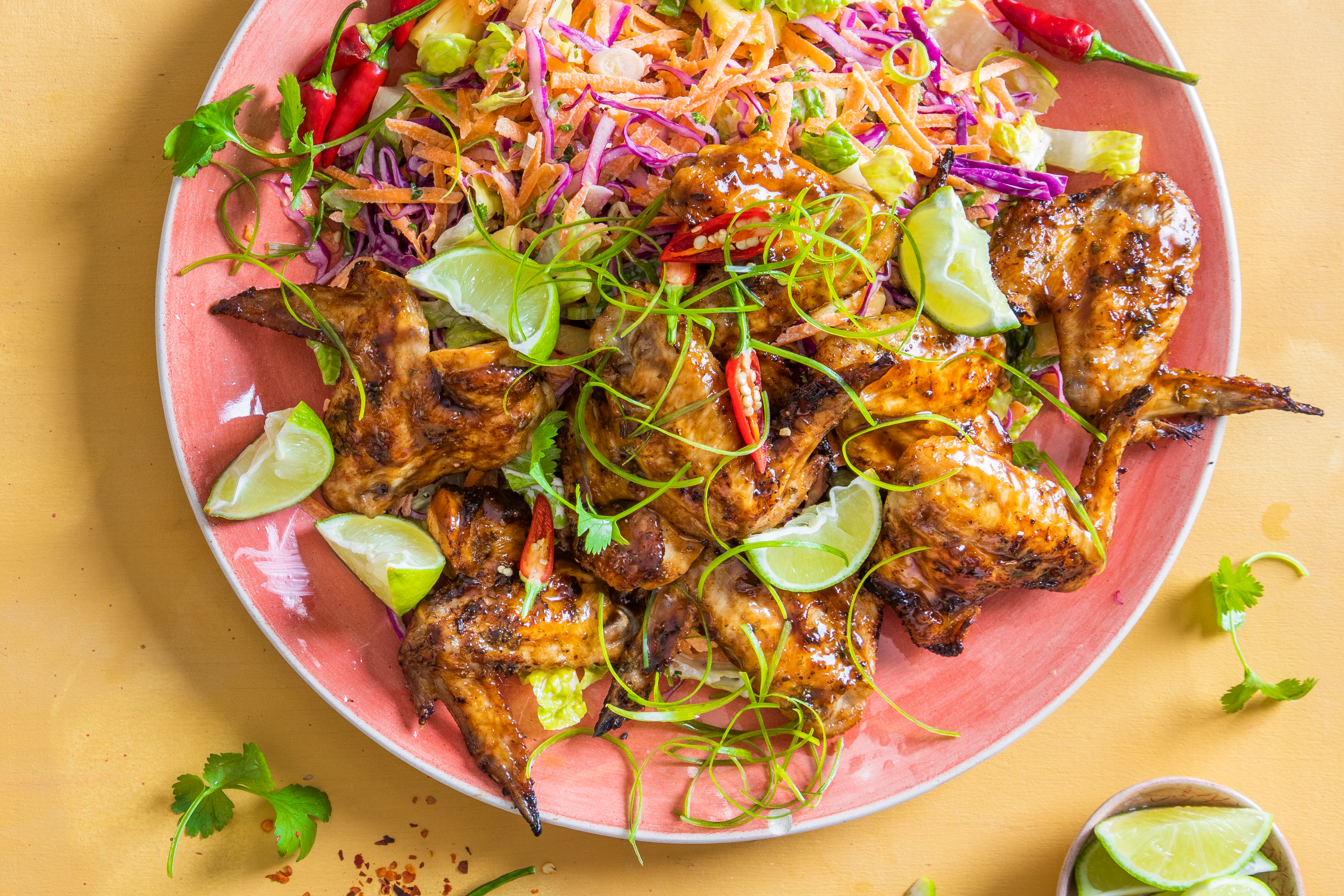 Prep time
30min

Cook time
15min

Serves
4
Spicy, crisp wings with a sweet and crunchy salad – now this is the taste of summer!
Ingredients:
1 x County Fair Chicken Wings (8pcs)
2 Tbsp (30ml) olive oil
Juice & zest of 2 limes
10g coriander, roughly chopped
1 tsp (5ml) chilli powder
Salt and milled black pepper
Slaw:
1 cup (250ml) pineapple, cut into small chunks
2 carrots, peeled & grated
1 cup (250ml) shredded red cabbage
1 cos lettuce, shredded
2 spring onions, finely sliced
Small handful chopped coriander
2 Tbsp (30ml) rice vinegar
2 Tbsp (30ml)  mayonnaise
Zest and juice of 1 lime
Fresh coriander and lime wedges to serve
Method:
Place the chicken wings into a bowl with the olive oil, lime juice & zest, coriander, chilli powder and a pinch of salt and black pepper.
Toss together and allow to marinate for 30 minutes.
Preheat your grill to medium heat and start cooking the wings, turning often, allowing them to caramelise nicely. Grill until cooked through, about 15 minutes.
Prepare the slaw: Mix the pineapple, carrots, cabbage, lettuce, spring onion and coriander together in a bowl and toss well.
In a separate bowl, whisk the rice vinegar, mayonnaise and lime zest and juice together. Add to the slaw mix and toss well.
Garnish with fresh coriander sprigs and lime wedges.
Serve the spicy, tangy wings with the refreshing slaw on the side.