HONEY-BALSAMIC CHICKEN WITH MEDITERRANEAN VEGGIES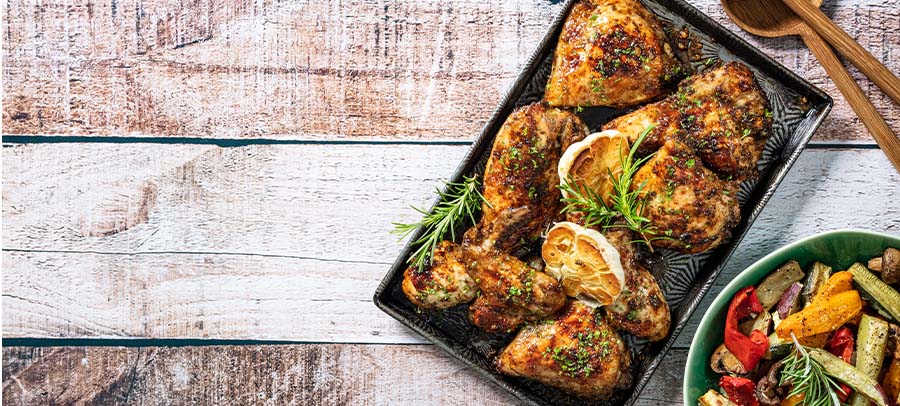 Prep time
25min

Cook time
55min

Serves
6
Sweet-and-sour chicken gets a fancy make-over with this moreish recipe.
Ingredients:
Chicken:
1 chicken braai pack
30ml olive oil
150ml balsamic vinegar
70ml honey
4 garlic cloves, minced
45ml wholegrain mustard
25ml dried oregano
salt and pepper
Vegetables:
3 red or robot peppers, cut into thick slices
2 medium sweet potatoes, cut into batons
12 courgettes, top and tailed, cut lengthways
250g mushrooms, halved
50ml olive oil
6 garlic cloves, finely chopped
15ml rosemary leaves
salt and pepper
Method:
Preheat the oven to 190°
In a large bowl, whisk together the olive oil, balsamic vinegar, honey, garlic, mustard, oregano, and a pinch of salt and pepper.
Toss the chicken pieces through the sauce. Allow to marinate for 30 minutes. Toss halfway.
In the meantime, prepare your vegetables. Toss the vegetables with the olive oil, salt, pepper, garlic, and rosemary.
Lay the vegetables on a large baking tray (or two). Place the marinated chicken pieces on top.
Place in the oven and roast for 45-55 minutes, until the chicken and vegetables are cooked through and delicious.