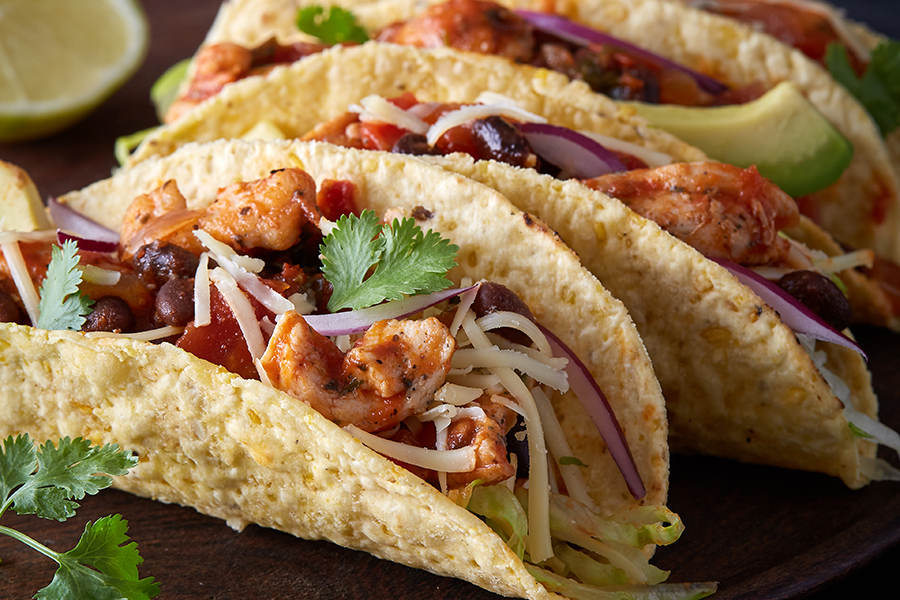 Prep time
15min

Cook time
15min

Serves
4
Who can say no to chilli, cheese and loads of yummy flavour? These tacos are easy to make and right on trend.
Ingredients:
1 tbsp oil (olive, canola or sunflower)
1 tbsp butter
400g skinless, boneless chicken breasts, cut into strips
Salt and freshly ground black pepper
1 tsp chicken spice (see Cook's Note)
2 red onions, chopped
2 tbsp Peppadew chutney (or chutney of your choice)
1 x 400g tin black beans (or beans of your choice), rinsed and drained
1 x 400g tin tomatoes, chopped
1 handful of fresh coriander or parsley, chopped
8 taco shells
½ a lettuce head, shredded
120ml soured cream
Juice of 1 lime (or lemon)
1 avocado, peeled, pitted and diced
1 cup grated cheddar cheese
Method:
Heat the oil and butter in a large non-stick frying pan. Season the chicken strips with salt, pepper and chicken spice. Add the chicken strips to the pan and cook on a high heat until browned. Remove the chicken using a slotted spoon, put it onto a plate and keep aside.
Add the onion to the pan (keep a little back for garnish) and cook until softened. Add the Peppadew chutney, beans and tomatoes. Bring to the boil and then simmer over a high heat for 10 minutes. Add the chicken and simmer for 5 minutes until piping hot. Add the coriander (keep a little back for garnish) and drizzle the lime juice over the avocado.
Warm the tacos and stuff them with the chicken mix and lettuce. Top with the avocado, soured cream, cheese and a sprinkling of extra chopped red onion and coriander.
Cook's Note:
Make your own chicken spice (makes about 100ml – store the rest in an airtight jar):
Mix 3 tablespoons salt flakes, 1 tablespoon freshly ground black pepper, ½ teaspoon dried parsley, ½ teaspoon onion powder, ¼ teaspoon dried thyme, ½ teaspoon dried oregano, 1 teaspoon garlic flakes, ¼ teaspoon smoked paprika, ¼ teaspoon cayenne pepper, ¼ teaspoon chilli flakes and 1 tablespoon chicken stock powder.
If you want a milder spice, leave out the cayenne pepper and chilli flakes.