Honey and orange chicken with chutney stuffing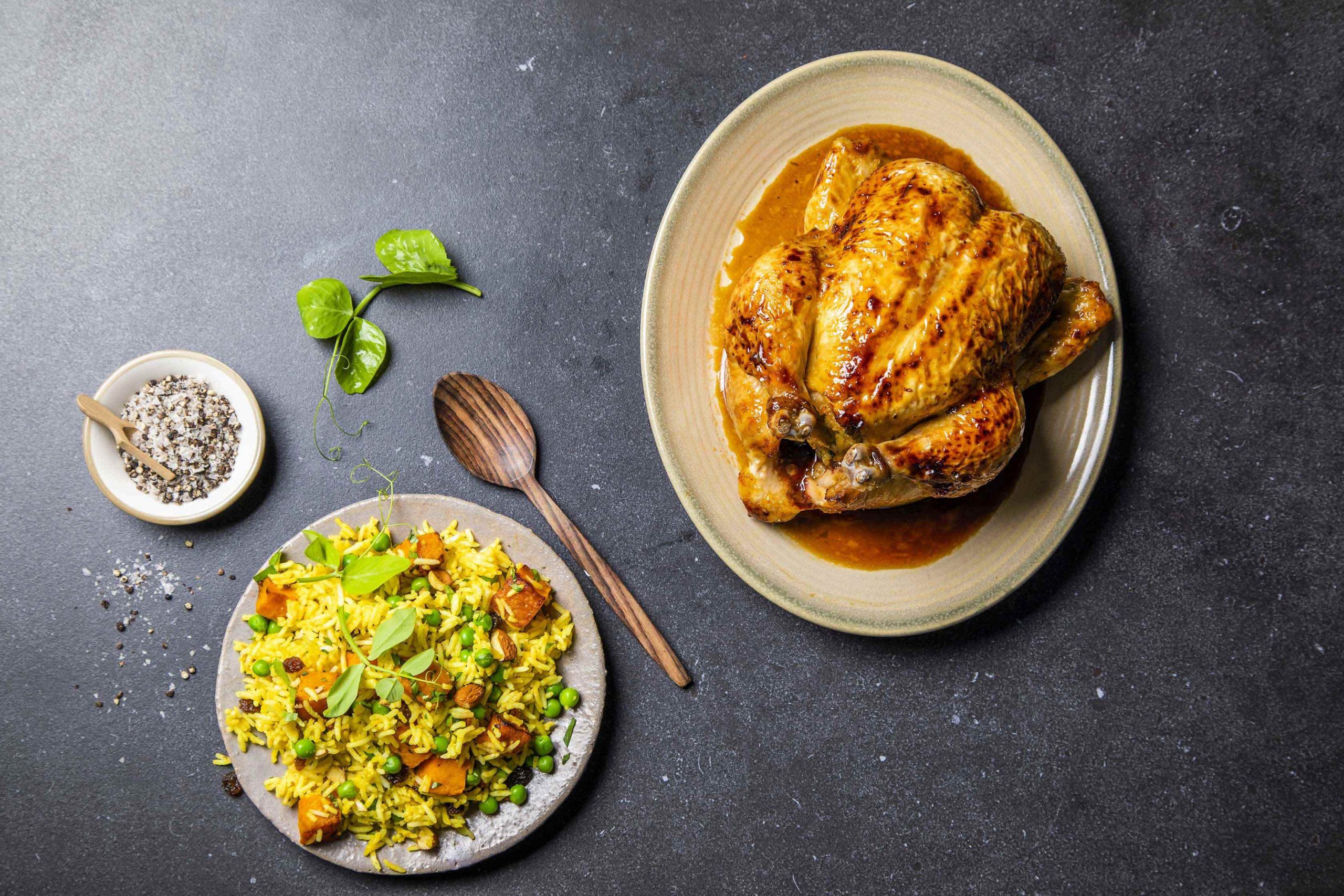 Prep time
30min

Cook time
60min

Serves
4
A little bit of effort = a fantastic dish for the entire family to enjoy!
Ingredients:
Ingredients:
Chicken: 1 whole chicken 1/3 cup orange juice zest of one orange 1/3 cup honey salt and pepper
Stuffing: 1½ cup dried breadcrumbs 30g almonds, roughly chopped ½ onion, finely chopped 1 clove garlic 30ml chutney (Mrs Balls) 5 sprigs thyme, leaves picked 10g parsley, roughly chopped salt and pepper 15ml butter ½ cup chicken stock, chilled
Fragrant rice: 700g pumpkin, cubed 15ml olive oil 5ml salt pepper 1 tablespoon butter 1 clove garlic, minced 1 tsp turmeric ½ tsp ground cumin 320ml jasmine rice 2 cups chicken broth 1 small bay leaf 1 cup peas, blanched 50g almonds, toasted 30g raisins 30g parsley, roughly chopped
Method:
Method:
Chicken and stuffing:
Preheat the oven to 190 degrees Celsius.
Combine all the stuffing ingredients. Stuff the stuffing inside the chicken's cavity and keep whatever is left over.
Place the chicken in a baking tray lined with foil. Season the chicken with salt and pepper.
Combine the orange juice, zest, and honey and brush half the glaze over the chicken.
Place in the oven and roast, glazing the chicken every 10 to 15 minutes.
If the chicken starts to colour too quickly, turn down the oven temperature slightly or place foil over the colouring parts.
After one hour, check to see if the chicken is cooked through.
Roll the remaining stuffing into balls and bake in the oven until golden. This takes approximately 20 minutes.
Rice:
Toss the chopped butternut with olive oil, salt and pepper. Spread over a baking tray lined with foil. Bake at 190 degrees Celsius until golden and cooked through.
Melt the butter in a pot over medium heat. Add the garlic, turmeric, cumin and a pinch of salt and fry for two minutes.
Add the dry rice and stir through until combined, lightly toasting the rice.
Add the chicken stock and bay leaf, cover with a lid, and turn the heat to high.
Bring the rice to a boil and then immediately turn down the heat. Allow to simmer for 20 minutes.
After 20 minutes, turn the heat off. Allow the rice to steam for another 10 minutes on the hot plate.
Fluff the rice with a fork. Stir through the roasted butternut, peas, almonds, raisins, and herbs.
To serve:
Carve the chicken and place it on a serving dish with the roasted stuffing balls. Remove the stuffing from the chicken and place it into a side dish to serve. Brush the chicken with the pan juices and serve the rice in a separate dish. Enjoy!