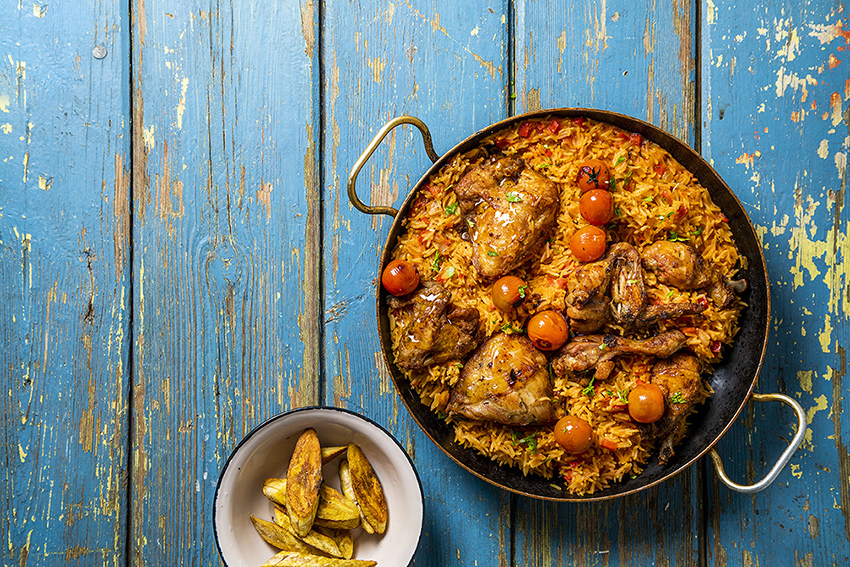 Prep time
—

Cook time
—

Serves
—
This delicious chicken pot bursts with exotic, West-African flavours.
Ingredients:
6-8 chicken pieces
3 red onions, chopped
30ml mild curry powder
15ml dry thyme
1 chicken stock cube
1 red pepper, finely chopped
400g tin cherry tomatoes
vegetable oil for frying
80g tomato paste
500ml long-grain rice
roasted cherry tomatoes
fried bananas
Method:
Place the chicken and 750ml of water in a large saucepan and bring to a boil.
Add half the onion, 5ml curry powder, thyme, stock, and salt. Cook for 10 minutes or until the chicken is almost cooked through.
Drain, reserving the liquid. Pat the chicken dry with a paper towel.
Blend the pepper, tomatoes, and remaining onion. Set aside.
Fill a large saucepan with oil, and place over medium-high heat.
Cook the chicken, turning the pieces until they're golden. Transfer the chicken to a plate, reserving a little oil in the pan.
Add the tomato mixture and the remaining curry and thyme to the pan. Turn the heat up.
Add the tomato paste and cook for 5 minutes until the oil separates from the paste.
Add the chicken and cook for 3 minutes, ensuring that the pieces are coated. Remove with tongs.
Add rice to the cooking liquid and 1 litre of water to the tomato sauce.
Reduce the heat to low, cover and cook, stirring for 45 minutes or until the liquid is absorbed.
Return the chicken to the pot and heat through.
Serve with roasted tomatoes and fried bananas.