Coronation chicken buddha bowls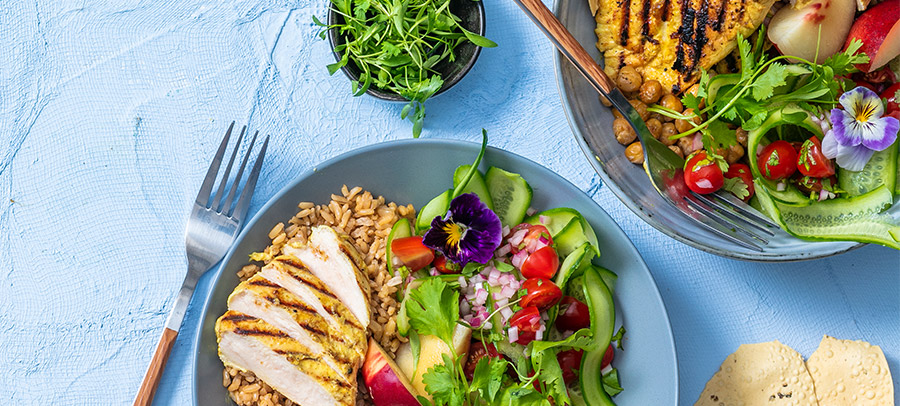 Prep time
90min

Cook time
40min

Serves
4
Enjoy summer in a bowl with a healthy combo of chicken, nectarines, cucumber ribbons and roasted chickpeas.
Ingredients:
200ml yoghurt
½ cup good-quality mayonnaise
1 tbsp curry powder or paste
½ tsp ground cinnamon
½ tsp ground turmeric
1 tbsp lemon juice
zest of 1 lemon
60ml fruit chutney
4 chicken fillets
300ml chickpeas, drained and rinsed
2 tbsp olive oil
1 tsp garlic-and-herb spice mix
2 cups cooked brown rice
2 nectarines, pitted and sliced
4 small baby cucumbers, sliced into ribbons
4 poppadums
Salsa
1 cup baby tomatoes, halved
1 small red onion, chopped
2 tsp red wine vinegar
½ tsp sugar
a pinch of dried chili flakes
salt and black pepper
1 tbsp coriander, chopped
Method:
Combine the yoghurt, mayonnaise, curry powder, cinnamon, turmeric, lemon juice, zest and chutney in a bowl. Mix well and divide in half.
Mix one half of the marinade with the chicken, place in a Ziplock bag and marinate for 1 hour.
Preheat the oven to 200°C.
Mix the chickpeas with the olive oil and the garlic-and-herb spice mix, place on a baking tray and roast in the oven for about 30 minutes until the chickpeas start to turn golden brown. Remove and cool down.
Make the tomato-and-red-onion salsa by combining all the ingredients.
Heat a griddle pan on medium heat and cook the chicken fillets for about 3 minutes on each side until cooked through and golden brown.
To assemble the bowls: Divide the rice between four bowls, add the nectarine slices, the cucumber ribbons and the roasted chickpeas. Top each bowl with a griddled chicken fillet, top with salsa and add a generous spoon of leftover marinade. Garnish with more fresh coriander and serve with poppadums.