BUTTER-BASTED CHICKEN WITH CHAKALAKA AND ROOSTERBROOD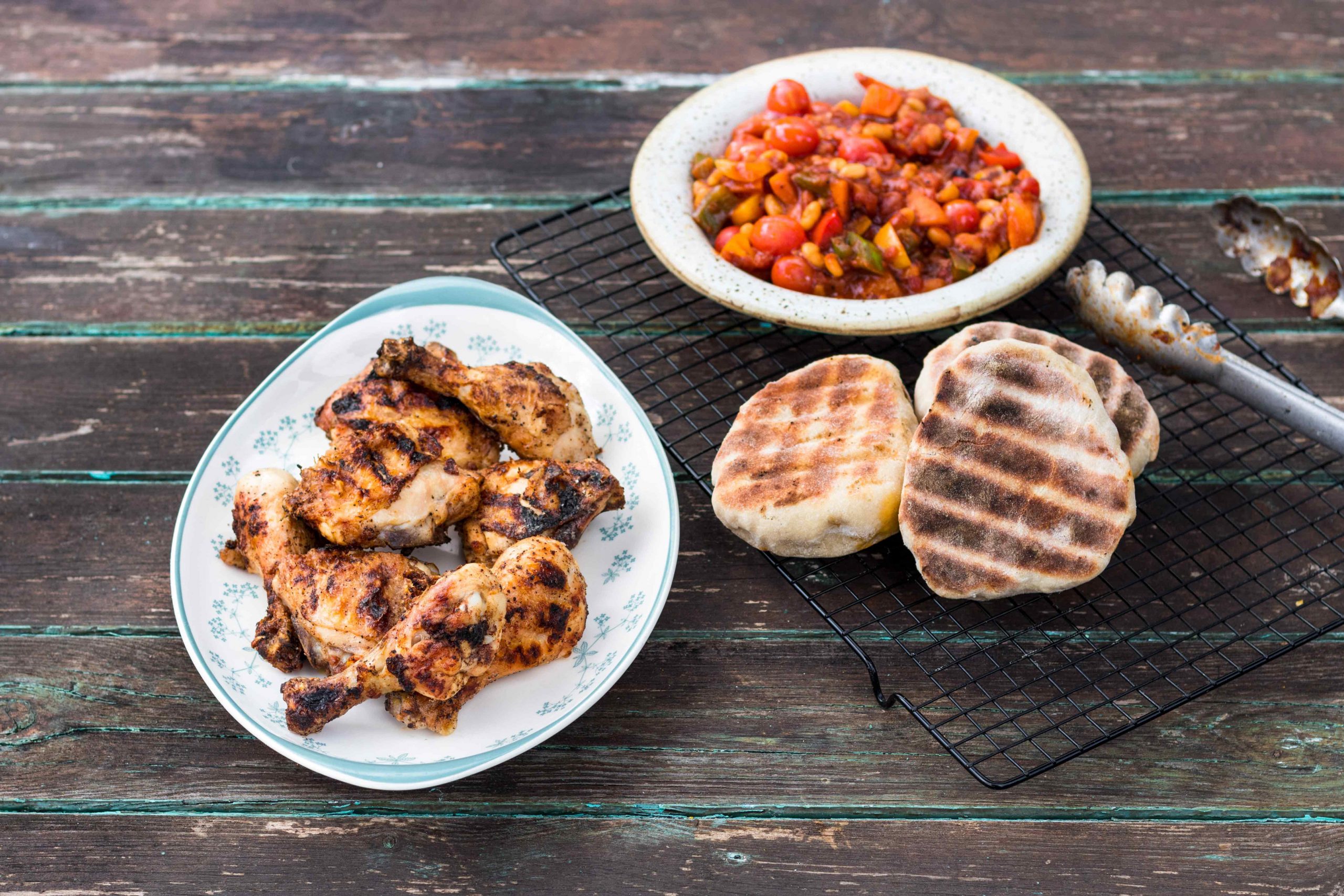 Prep time
15min

Cook time
50min

Serves
6
Nothing beats easy-to-prep braai chicken. It gives you more time to spend with your guests!
Ingredients:
Chicken:
6 chicken pieces
160g butter
5ml paprika
5ml onion powder (optional)
5ml garlic powder
salt
Chunky chakalaka:
15ml oil
2 onions, chopped
15ml medium curry powder
10ml cayenne pepper
60ml tomato sauce
1 tin chopped tomato
4 carrots, chopped
3 peppers (yellow, green, and red)
a handful of cherry tomatoes
1 tin baked beans
salt
Method:
For the chicken:
Mix the butter with the spices.
Smear half the spice butter over the chicken.
Braai the chicken for 35 minutes, turning and basting with the remaining butter.
For the chunky chakalaka:
Heat oil in a pan over medium heat (or over the coals).
Fry the onion, curry, and cayenne for 2 minutes.
Stir in the tomato sauce, tomatoes, carrots, and peppers. Simmer for 15 minutes.
When the carrots are tender, add the cherry tomatoes and baked beans. Season.
For the roosterbrood:
Mix the flour, salt, sugar, and yeast together.
Add the butter into the flour mixture, rubbing it with your fingertips until the mixture resembles crumbs.
Add water to the dry ingredients to form a soft dough. Place aside, cover, and allow to rise for 1 hour.
Knead the dough again and shape into 12 balls.
Place the dough aside for 10 minutes.
Flatten the balls slightly and sprinkle with a little flour.
Cook over a low fire for 10 minutes on each side.
Tap the bread with your fingers. When it makes a hollow sound, it's ready to serve.