Chilli chicken with corn pap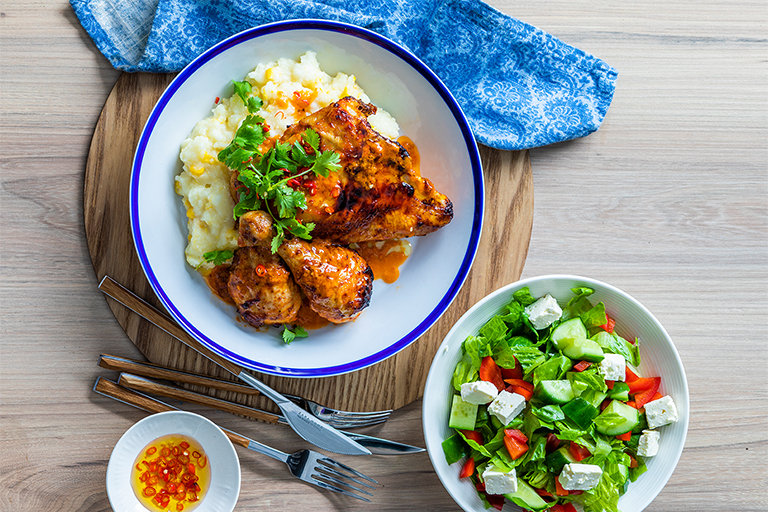 Prep time
135min

Cook time
35min

Serves
6
The chilli and corn combo makes for a festive meal that's incredibly satisfying.
Ingredients:
Chilli chicken:
1 red pepper, chopped
3 garlic cloves, sliced
3 tomatoes, chopped
8 red chillies, chopped
¼ cup canola oil
1 tbsp vinegar
1 tsp paprika
1 kg chicken pieces
salt and pepper
Corn pap: 4 cups water 1 tsp salt 2 tbsp margarine 2 cups maize meal 400g creamed corn
Method:
- Mix the red pepper, garlic, tomatoes, red chillies, oil, vinegar, salt, pepper and paprika. Blend in a processor until smooth. - Place chicken in a bowl and cover with the vegetable mixture. Marinade for 2 hours. For the pap: Bring the water and salt to the boil. Add the margarine and maize meal. Stir through until smooth and cover with a lid. Reduce the heat and simmer for 35 minutes. Finish off by stirring in the creamed corn. For the chicken: - Place a hot griddle pan over high heat. - Remove the chicken from the marinade and place in a hot griddle pan. Cook, turning every 10 minutes or until charred. - Pour over the remaining marinade. Simmer for 15 minutes or until chicken through. - Serve the chicken with the corn pap and garnish with fresh coriander.