Chicken with crispy potato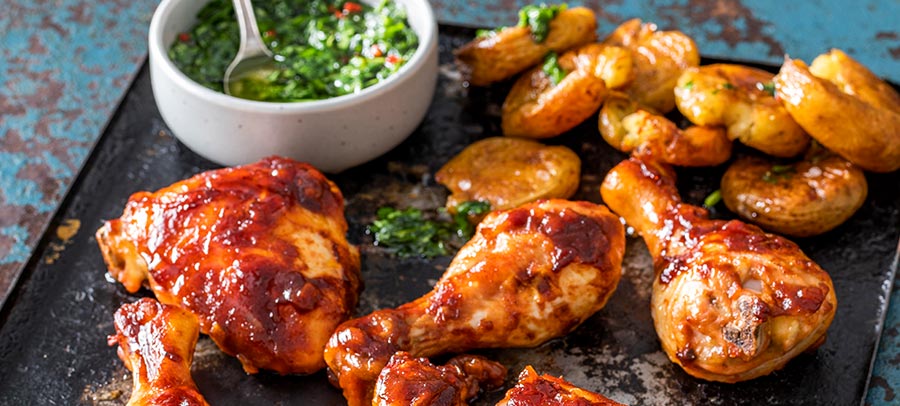 Prep time
10min

Cook time
60min

Serves
6
Who can say no to chicken and crispy potatoes? This recipe includes a delicious rub for the meat.
Ingredients:
40g butter, melted
300g baby potatoes
Salt and pepper
Chicken
1tsp (5ml) oil
½ onion, chopped
¼ cup (60ml) tomato sauce
3 tbsp (45ml) Worcestershire sauce
1 tbsp (15ml) vinegar
3 tbsp (45ml) brown sugar
6 pieces of chicken thighs and drumsticks
Method:
Preheat oven to 180°C.
Rub butter with potatoes on a baking sheet and season with salt and pepper. Roast in the oven for 45 minutes.
Remove potatoes and mash each potato. Season again with salt and pepper and roast for 15 minutes.
For the chicken:
Mix oil, onion, tomato sauce, Worcestershire sauce, vinegar and sugar in a bowl.
Rub the mixture over the chicken.
Place on a baking sheet and roast in the oven for 30 minutes or until cooked.