CHICKEN AND POTATOES WITH GARLIC-PARMESAN SAUCE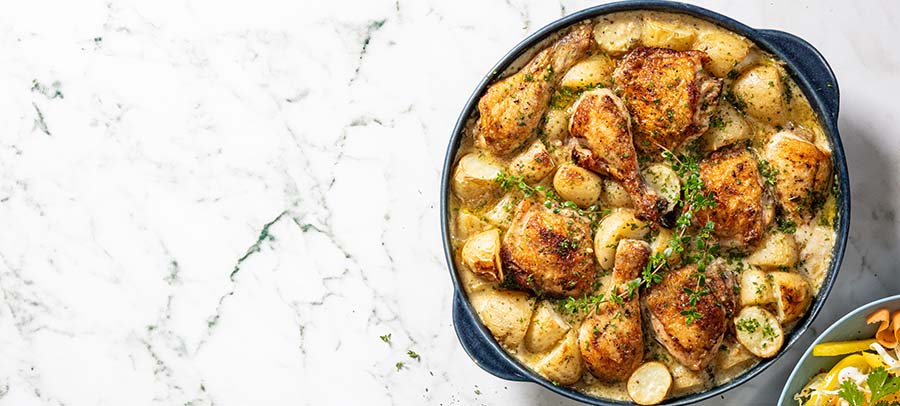 Prep time
25min

Cook time
45min

Serves
4
Double up this recipe to serve a hungry horde.
Ingredients:
1 x County Fair Star Pack
500g baby potatoes, halved
4 Tbsp butter
6 garlic cloves, finely chopped
2.5ml thyme leaves, plus extra stalks
15ml flour
250ml chicken stock
125ml cream
125ml parmesan cheese
salt and pepper
fresh cabbage slaw
30ml parsley, chopped
Method:
Preheat the oven to 180°
Season the chicken generously with salt and pepper.
Put half the butter into a skillet over a medium-high heat.
Add the chicken pieces and sear until golden brown on both sides (about 2 minutes per side). Put the chicken aside.
Turn the heat on the skillet to low.
Add the remaining butter, garlic, and thyme leaves. Sauté gently for 2 minutes.
Add the flour and cook for a further 2 minutes.
Gradually add the chicken stock, whisking continuously to remove any lumps. Bring to the boil; then add the cream and parmesan cheese. Whisk together.
Place the chicken pieces skin-side up in a roasting dish. Arrange the potatoes around the chicken. Pour over the cream sauce and scatter over the extra thyme stalks.
Place in the oven and cook for about 45 minutes, until the chicken pieces are cooked through.
Serve the creamy chicken in its roasting dish with the potatoes, served with the cabbage slaw on the side.
Sprinkle over chopped parsley.