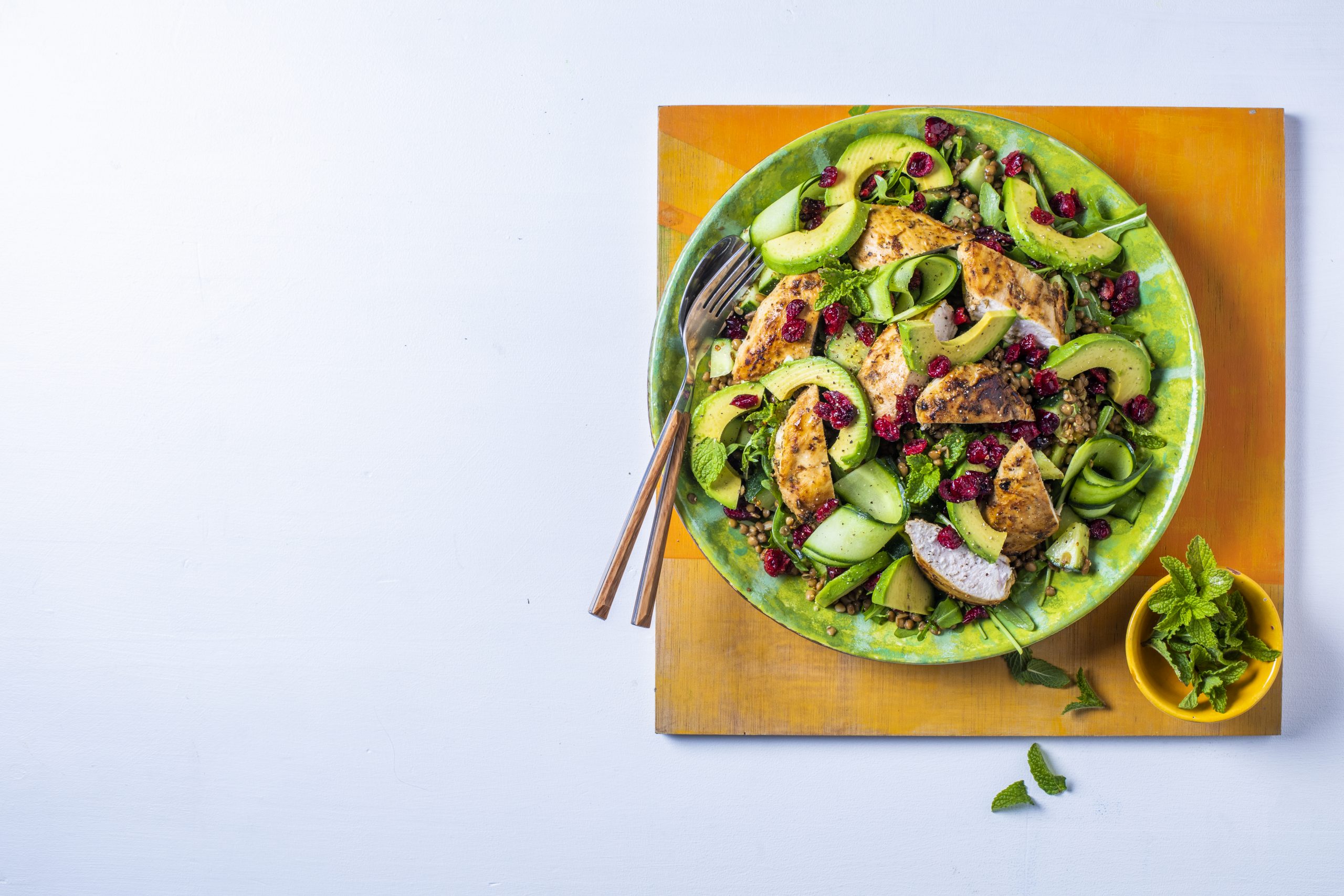 Prep time
45min

Cook time
20min

Serves
4
This tangy chicken salad is filling, rich in fibre and packed full of Mediterranean flavours.
Ingredients:
Chicken:
4 x chicken breasts
15ml olive oil
15ml lemon juice
5ml lemon zest
10ml honey
5ml dried thyme
5ml ginger powder
2 cloves garlic, finely grated
10ml Dijon mustard
salt and pepper
Salad:
1 x 400g tin brown lentils, drained
1 avocado, sliced
100g dried cranberries
600g rocket
1 cucumber, quartered lengthwise and chopped into 1cm pieces
30g mint, leaves picked
Dressing:
15ml olive oil
30ml lemon juice
15ml wholegrain mustard
15ml honey
salt and pepper
Method:
Chicken:
● Mix the olive oil, lemon juice and zest, honey, thyme, ginger powder, garlic and Dijon mustard in a bowl. Season to taste with salt and pepper. Pat the chicken breasts dry before adding to the mixture and letting it marinade for 1 hour.
● Put a large pan on the stove over medium to high heat. Once hot, add the chicken with the marinade. Cook on one side for 3 to 4 minutes, until caramelised, then turn over for 2 minutes.
● Turn the heat down to low, put the lid on and let the chicken finish cooking slowly for about 7 minutes. Once cooked, put the chicken onto a chopping board to rest for about 8 minutes before slicing into 0.5 to 1cm thick pieces.
Salad:
● Mix the brown lentils, avocado, dried cranberries, rocket, cucumber and mint in a large serving dish.
Dressing:
● Whisk the olive oil, lemon juice, wholegrain mustard and honey together to make the dressing. Season with salt and pepper.
Put the chicken pieces on top of the salad and drizzle the dressing over before serving.