Chicken stew with steamed dumplings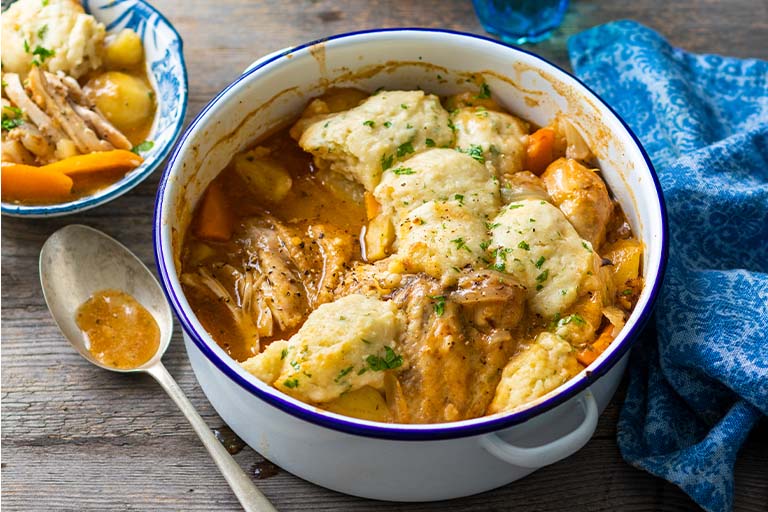 Prep time
20min

Cook time
45min

Serves
4
Ingredients:
2 tbsp canola oil
1.5 kg chicken pieces, defrosted
1 onion, chopped
3 carrots, thinly sliced
2 tbsp chicken spice
1 bay leaf
2 potatoes, diced
1 chicken stock pot
2 cups water
1 tbsp cream of chicken soup powder
Dumplings:  
1 cup flour
1½ tsp baking powder
½ tsp salt
2 tbsp sugar
60g margarine
⅔ cup milk
2 sprigs fresh parsley, chopped
Method:
Heat a pot over medium heat. Add oil.
Brown the chicken pieces. Add the onions, stirring until soft.
Stir in the carrots, chicken spice, bay leaf, potatoes, stock and water. Bring to a boil and simmer for 10  minutes.
Make a paste, mixing the soup powder with water.
Pour the paste into the chicken pot. Stir, cover and simmer for 20 minutes.
Dumplings:
Combine the dry ingredients in a mixing bowl.
Rub in the margarine until the mixture is crumbly. Add the milk and parsley, and mix to form a dough.
Drop spoonfuls of dough over the chicken pieces.
Cover immediately for 8 minutes or until the dumplings have doubled in size.