Chicken pieces in a bacon and brown sugar glaze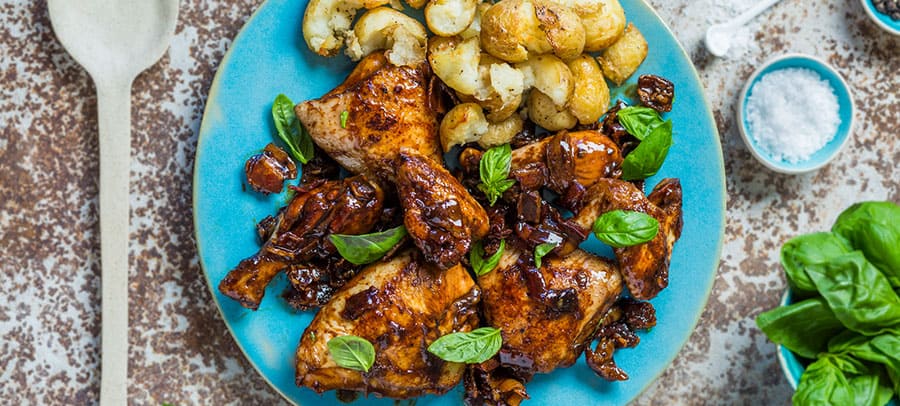 Prep time
20min

Cook time
50min

Serves
4
In just over an hour, you'll be able to serve this sophisticated, restaurant-style chicken dish.
Ingredients:
1 x braai pack of chicken
Olive oil
Cayenne pepper
1 packet streaky bacon, chopped into medium-sized pieces
Knob of butter
6 tbsp brown sugar
1 cup Worcestershire sauce
4 tbsp water
Method:
Rub the chicken pieces with olive oil, salt, pepper and a pinch of cayenne pepper. Fry the chicken pieces, skin side down, in a hot nonstick pan. Cook for about 8 minutes until the skin is golden and crispy, then turn to cook the other side for a few more minutes. Add the bacon to the pan and fry, while still turning and cooking the chicken.
When the chicken and bacon are golden, turn the heat down to low. Add a knob of butter, ¼ of a teaspoon of cayenne pepper, brown sugar, Worcestershire sauce and water. Stir to create a glazy spicy sauce.
Keep turning the meat until it is cooked and nicely coated. Taste the sauce, add another pinch of cayenne pepper if you like your food spicy. If the sauce is too sticky, add a splash of water.
Serve with a side of your choice.