Chicken on grilled sourdough with smoky chutney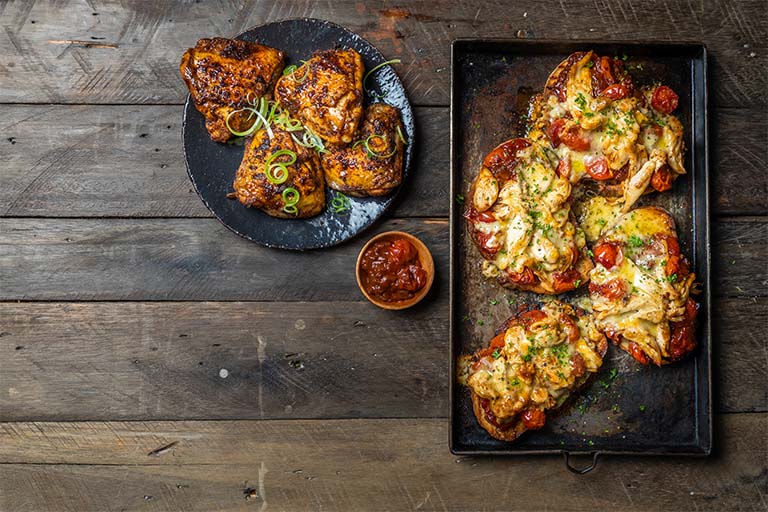 Prep time
30min

Cook time
45min

Serves
4
This melt-in-the-mouth grilled sarmie hits the spot!
Ingredients:
       Chicken:
4 chicken thighs
20ml olive oil
15ml lemon juice
5ml lemon zest
15ml paprika
10ml cayenne pepper
15ml barbeque spice
5ml dried mixed herbs
2.5ml dried garlic flakes
5ml salt
pepper
Tomato chutney:
10ml olive oil
1 onion chopped
2 garlic cloves, finely chopped
50g tomato paste
15ml smoked paprika
5ml cayenne pepper
20ml sugar
700g cherry tomatoes, halved
120ml water
salt and pepper
To serve:
4 slices sourdough, grilled
12 slices mature cheddar cheese
Method:
Chicken:
Mix all the ingredients for the marinade.
Rub the marinade over the chicken and allow the meat to sit in the marinade for at least 1 hour before cooking.
Barbeque the chicken thighs until they're cooked through.
Put aside and allow to cool slightly.
Shred the chicken thighs, including the skin.
Tomato chutney:
Heat the olive oil in a pan. Add the onion and garlic and cook over a medium heat until slightly softened (about 5 minutes).
Add the tomato paste, spices, and sugar, and fry for a further 2 minutes until fragrant.
Add the tomatoes and toss through the rest of the ingredients. Fry the tomatoes until they start to soften.
Add the water and cook until the water has evaporated and you have a chutney-like consistency.
Season to taste.
To assemble:
Top each grilled piece of sourdough with two spoons of tomato chutney.
Top with shredded chicken; then add 3 pieces of cheese.
Place under the grill to melt.