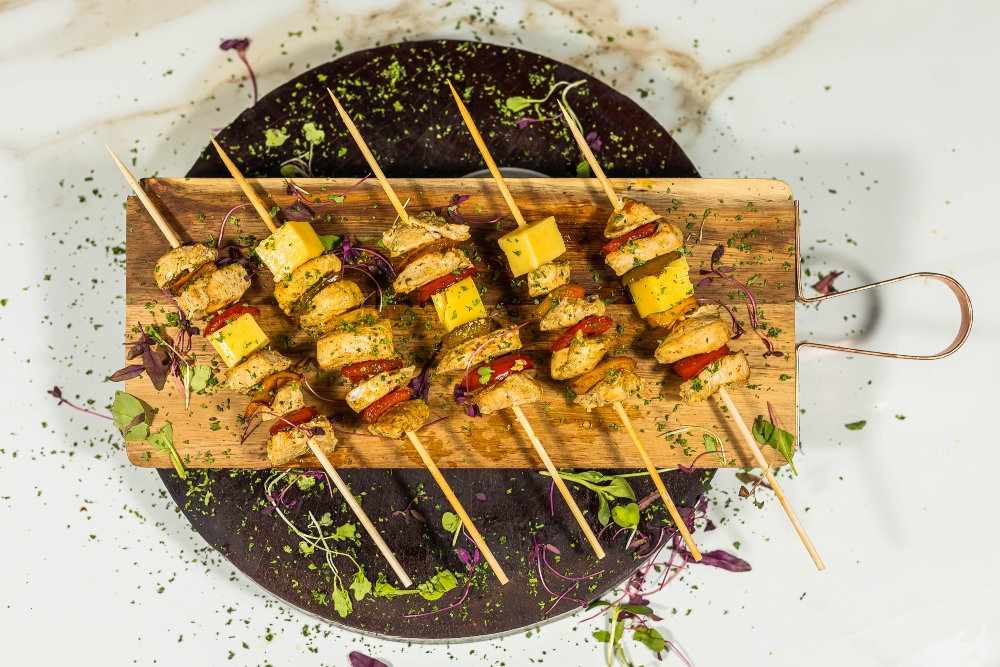 Prep time
15min

Cook time
15min

Serves
6
This skewer recipe shares a nifty time-saving cheat.
Ingredients:
1kg Goldi chicken breasts
2 Tbsp (30ml) vegetable olive oil
2 Tbsp (30ml) honey
2 Tbsp (30ml) Worcestershire sauce
½ cup (125ml) mayonnaise or plain yoghurt
2 Tbsp (30ml) crushed garlic
juice of half a lemon
1 tsp (5ml) each salt and pepper
3 robot bell peppers, cut into medium pieces
1 Tbsp (15ml) chicken spice
250g hard cheese of your choice (cheddar or Gouda)
sosatie sticks, soaked in water
Method:
Cut the chicken breast into medium size pieces, about 3cm x 3cm, and set aside.
In a large bowl, whisk together the vegetable oil, honey, Worcestershire sauce, mayonnaise, garlic, lemon juice, salt and pepper. Mix and reserve about 3 Tbsp for later.
Add the chicken pieces and bell pepper to the remaining marinade and marinate in the refrigerator for at least 20 minutes.
Drain marinade from chicken and vegetables.
Pan-fry chicken first, then add vegetables and chicken spice. Cook on high heat for 10 minutes; alternatively, grill chicken breasts and peppers at 180°C for 15 minutes.
Once cooked, thread chicken, vegetables and cheese alternately onto skewers
Brush skewers with leftover marinade and serve.