BALSAMIC ROASTED CHICKEN THIGHS WITH A FRESH TOMATO & BASIL SALAD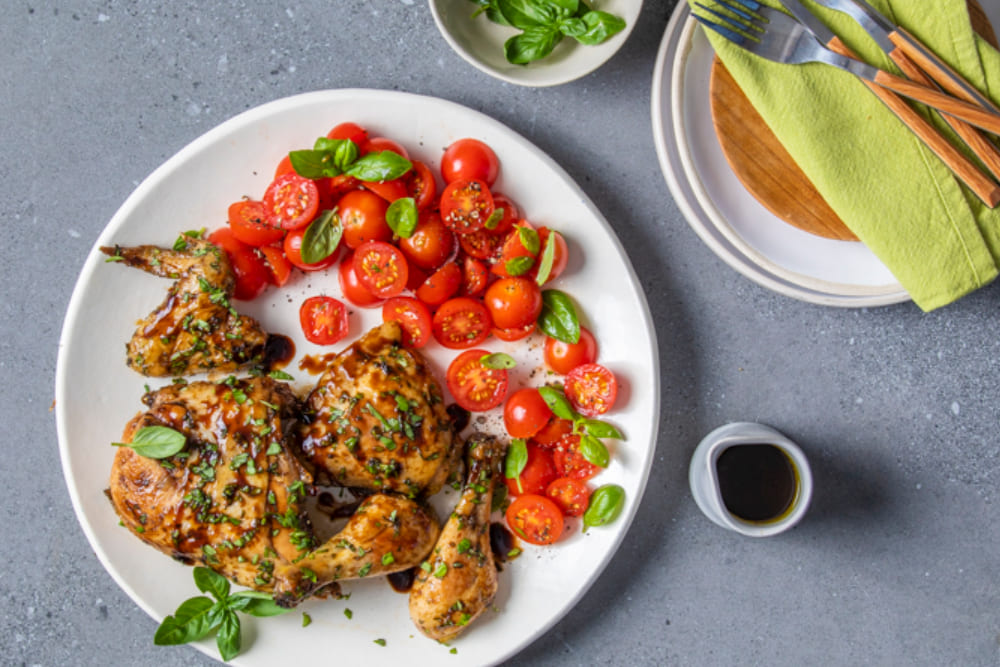 Prep time
15min

Cook time
1h

Serves
4
This recipe makes for the perfect mid-week feast.
Ingredients:
1 x County Fair Chicken Braai pack (5 pieces)
10g basil leaves, finely chopped
¼ cup (60ml) balsamic vinegar
¼ cup (60ml) honey
For the salad:
500g cherry tomatoes, halved
2 Tbsp (30ml) balsamic vinegar
2 Tbsp (30ml) honey
15g basil, roughly torn
Olive oil
Salt and milled black pepper
Method:
Preheat the oven to 180°C.
Place chicken pieces in an oven dish. Drizzle with 3 Tbsp olive oil, add the chopped basil leaves and season.
Roast in the oven for 50 minutes.
In the meantime, place the balsamic vinegar and honey in a pot and boil; remove from the heat and set aside.
Remove the chicken from the oven, brush over the honey-balsamic glaze, and return to the oven for a further 10 minutes.
Prepare the salad; sprinkle a pinch of salt over the tomatoes and set aside for at least 15 minutes.
Mix the olive oil, balsamic vinegar and honey together with a pinch of pepper.
Remove the chicken from the oven and rest for 5 minutes.
Toss the seasoned tomatoes, dressing and torn basil together in a bowl.
Place the chicken on a serving platter and serve with the salad on the side.