Herby drumsticks with cos wedges and lemon yoghurt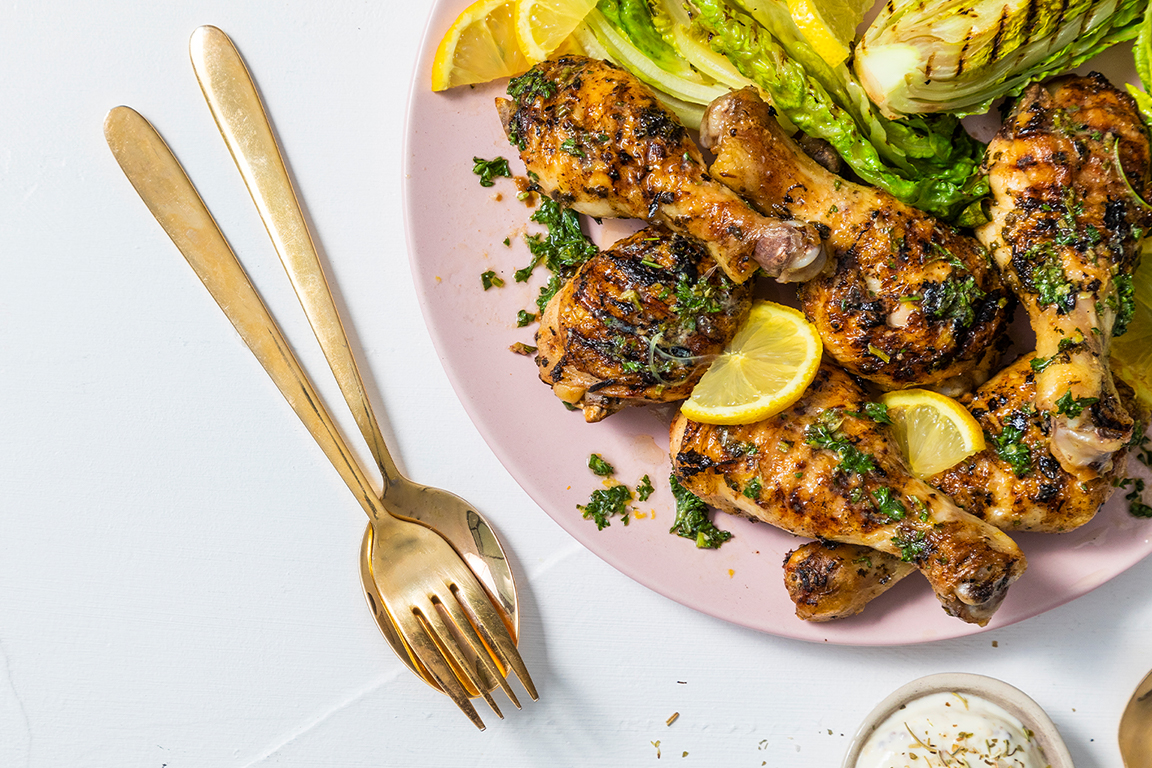 Prep time
30min

Cook time
40min

Serves
4
This is a wonderfully light way to enjoy braai chicken.
Ingredients:
Chicken:
30ml lemon juice
5ml lemon zest
10ml fresh parsley, finely chopped
5ml fresh rosemary, finely chopped
2 garlic cloves, finely grated
15ml olive oil
1 chicken drumsticks
salt and pepper
Grilled cos lettuce:
2 cos lettuce, quartered
15ml olive oil
salt and pepper
Lemon yoghurt:
200ml plain yoghurt
20ml lemon juice
5ml lemon zest
5ml honey
10ml wholegrain mustard
salt and pepper
Method:
Chicken:
Combine the lemon juice, zest, parsley, rosemary, garlic, olive oil, and a generous pinch of salt and pepper.
Toss through the drumsticks and leave to marinate for 30 minutes.
Braai the chicken drumsticks over medium-hot coals, turning occasionally, until charred and cooked through. This takes about 20-30 minutes.
Grilled cos lettuce:
Brush each wedge with olive oil. Season with salt and pepper.
Over a high heat on the braai, quickly grill the lettuce on both cut sides until charred. They should cook fast, or else they go limp.
Serve immediately.
Lemon yoghurt:
Combine all the ingredients together. Season to taste with salt and pepper.
Serve the hot chicken drumsticks with the grilled cos lettuce on the side. Drizzle with your delicious lemon-yoghurt dressing.