BANG-BANG CHICKEN WITH PINEAPPLE AND TOMATO SALSA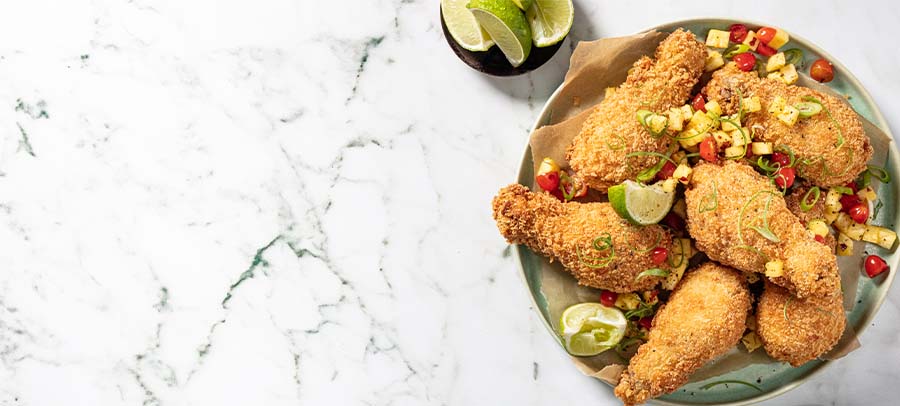 Prep time
30min

Cook time
15min

Serves
4
The name of the original dish comes from the way in which the chicken is tenderized using a stick or hammer.
Ingredients:
Sauce:
80ml mayonnaise
45ml sweet chilli sauce
15ml sriracha sauce
15ml honey
Chicken:
1 x pack of chicken drumsticks 1-1.5 cups panko breadcrumbs
oil for frying
250ml buttermilk
1 egg
180ml flour
15ml sriracha sauce
salt and pepper
Pineapple and tomato salsa:
½ pineapple, cut into small cubes (0.5cm x 0.5cm)
150g cherry tomatoes, quartered
2 spring onions, finely sliced, plus extra for serving
1 chilli, seeds removed and finely chopped, plus extra for serving
Juice and zest of 1 lime
Method:
Sauce:
Whisk all the ingredients together.
Chicken:
Fill a pot with oil and heat.
In a large bowl, whisk together the buttermilk, egg, flour, sriracha sauce, salt, and pepper.
Dip each drumstick in the batter; then toss through the panko breadcrumbs.
Once all the chicken is crumbed, fry the drumsticks in the oil until crispy and cooked through.
Remove from the oil and place on paper towel. Season with a little extra salt.
Pineapple and tomato salsa:
Combine all the ingredients for the salsa together.
To serve:
Serve the crispy chicken with the sauce drizzled over.
Put the extra sauce in a bowl on the side, along with the salsa.
Garnish the chicken with the extra spring onion and chilli.