Butter chicken spatchcock with roast vegetables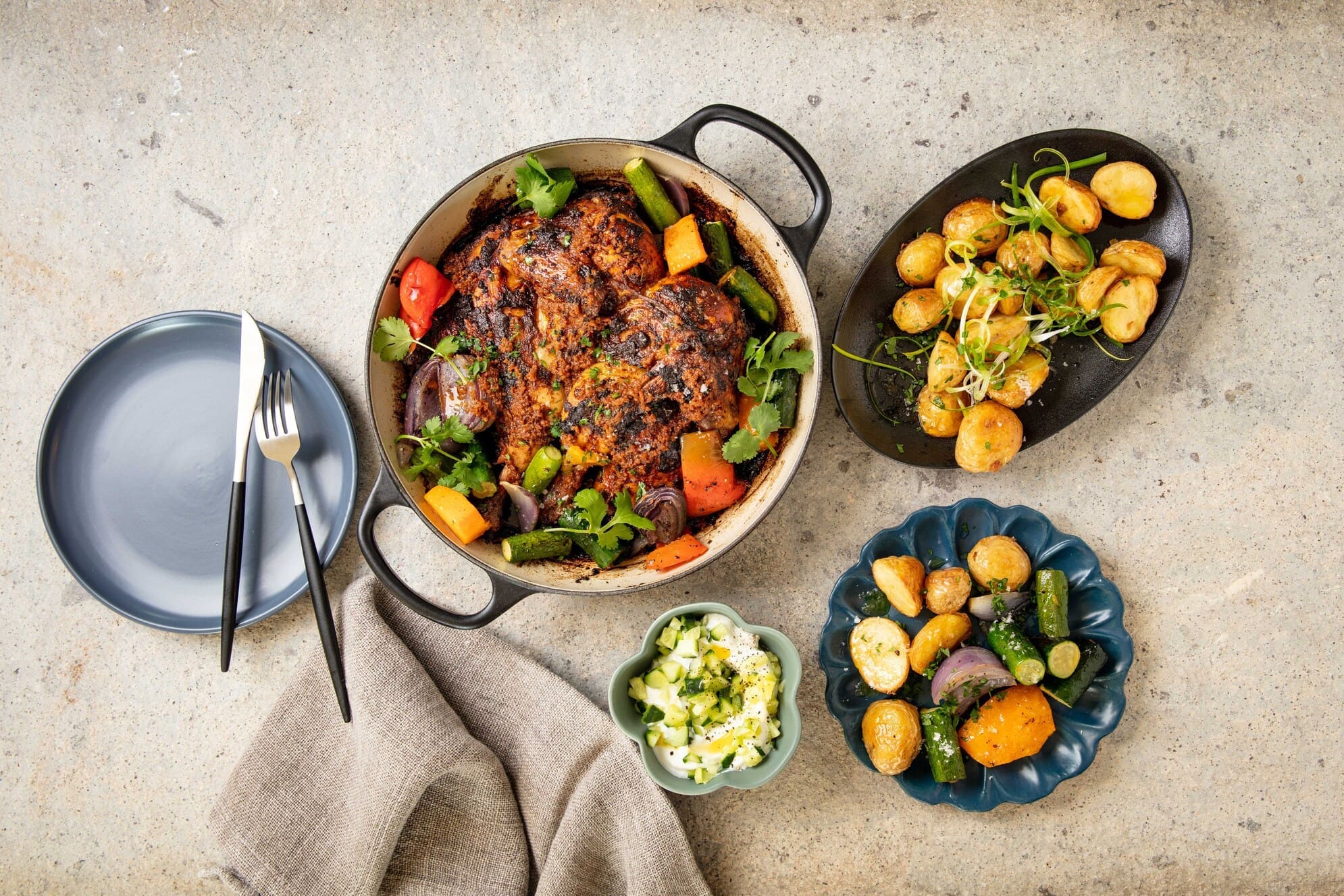 Prep time
10min

Cook time
1h:15min

Serves
4
Feel like butter chicken, but without the effort? Then this quick and easy recipe is just for you.
Ingredients:
1 x whole chicken, spatchcocked
Glug olive oil
Salt and milled pepper
1 Tbsp (15ml) ground coriander
1 Tbsp (15ml) ground paprika
3 Tbsp (45ml) butter chicken paste
3 cups (750ml) roughly cut mixed roast vegetables (potatoes, baby marrows and carrots work well)
2 garlic cloves, chopped
¼ cup (60ml) melted butter
1 Tbsp (15ml) chopped coriander
2 spring onions, sliced.
Method:
Preheat the oven to 200°C
Place the chicken in a large bowl. Mix the olive oil, salt, pepper, ground coriander and paprika together and rub generously over the chicken, making sure to coat evenly. Set aside to marinate for at least 2 hours.
Rub the chicken generously with the butter chicken paste and place it into a deep oven dish. Cover with foil and roast for 40-45 minutes.
Meanwhile, place vegetables and garlic in a separate baking tray.
Drizzle with half the melted butter and season.
Roast for 15-20 minutes, or until cooked through.
Remove the chicken from the oven, and baste generously with the remaining butter and the pan drippings. Reduce oven temperature to 180°C.
Return to the oven, uncovered and roast for a further 10-15 minutes or until cooked through.
Arrange the chicken and vegetables on a serving tray, drizzle with any remaining pan drippings and sprinkle with fresh coriander and spring onion.
Serve with the roast vegetables and cucumber yoghurt if you wish.