Walnut, butternut and sourdough stuffed chicken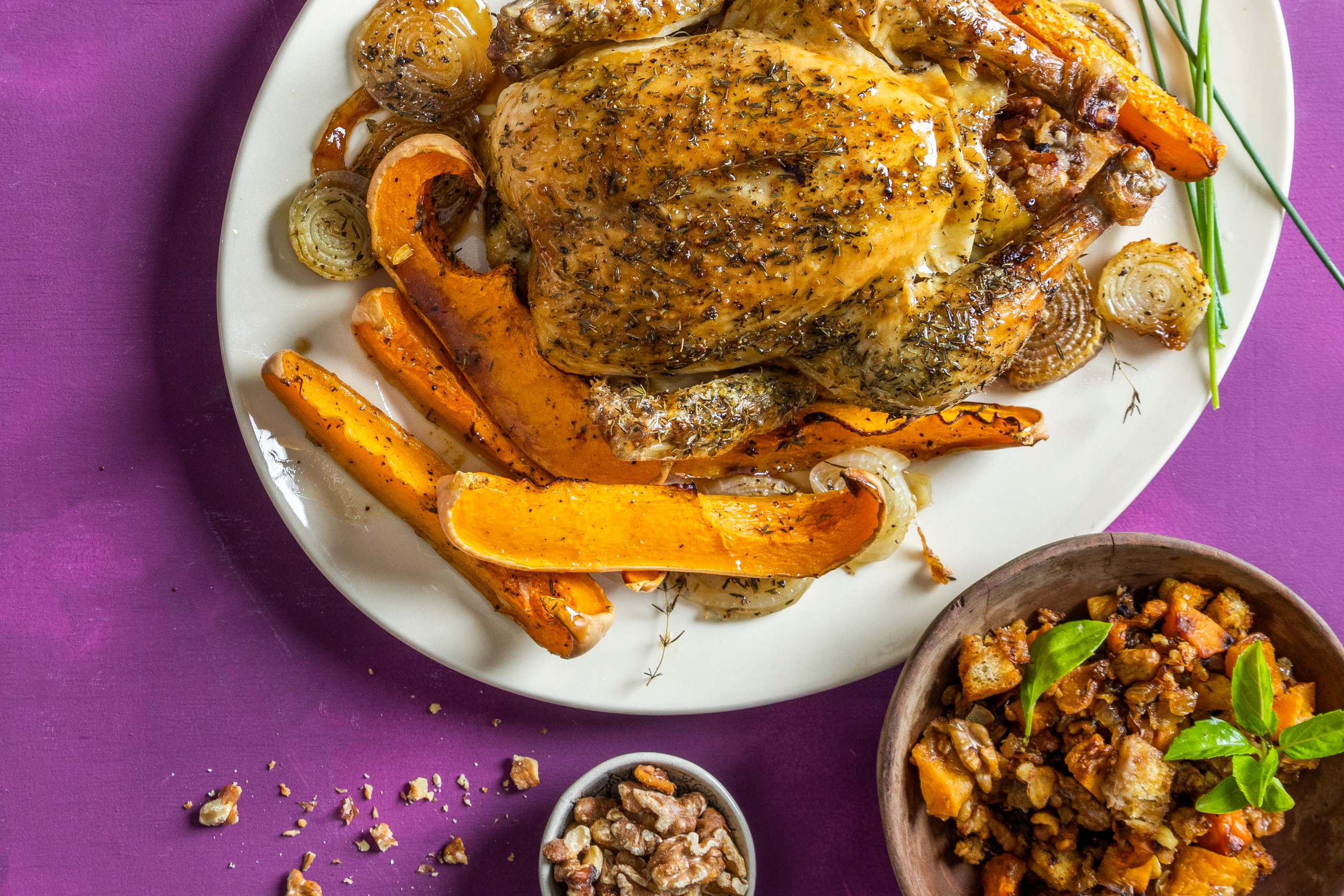 Prep time
30min

Cook time
1h

Serves
6
Butternut two-ways is the hero of this roast worthy of any special occasion.
Ingredients:
500g butternut cubes
3 Tbsp (45ml) olive oil
1 onion, roughly chopped
2 cloves garlic, roughly chopped
2 tsp (10ml) dried thyme leaves
1 cup (250ml) sourdough, cubed
100g walnuts, toasted and roughly broken
1 orange
1 x County Fair Whole Chicken
2 Tbsp (30ml) olive oil
2 tsp (10ml) dried thyme
1 butternut, approximately 1kg
2 onions, peeled and sliced into 1cm thick rounds
2 Tbsp (30ml) olive oil
Small handful of fresh thyme
Salt and milled black pepper
Method:
Preheat the oven to 190°C.
Place the butternut cubes on a tray and drizzle over 3 Tbsp of olive oil, and season with a pinch of salt and pepper. Toss and roast in the oven for 30 minutes until cooked.
Turn the heat down to 180°C.
Heat the remaining olive oil in a pan over medium heat.
Add the onion and sauté for 7 minutes, then add the garlic and thyme, and sauté for a further 2 minutes. Add the sourdough to the pan and toss through.
Place the sourdough mix in a bowl with the roasted butternut and toasted walnuts. Add the juice and zest of 1 orange and toss well. Season to taste, set aside to cool.
Once cooled. Place the chicken on a board and drizzle over the olive oil. Season with salt, pepper and thyme, and stuff the cavity of the chicken with the cooled stuffing.
Wash the butternut thoroughly, then slice it into 10 wedges, discarding the seeds.
Arrange the sliced onion and butternut in a large roasting tray and drizzle over the olive oil, thyme, salt and pepper. Nestle the chicken into the middle and place in the oven. Roast for 1 hour at 180°C until the chicken is golden and cooked through.
Serve.