Spicy red-pepper spatchcock chicken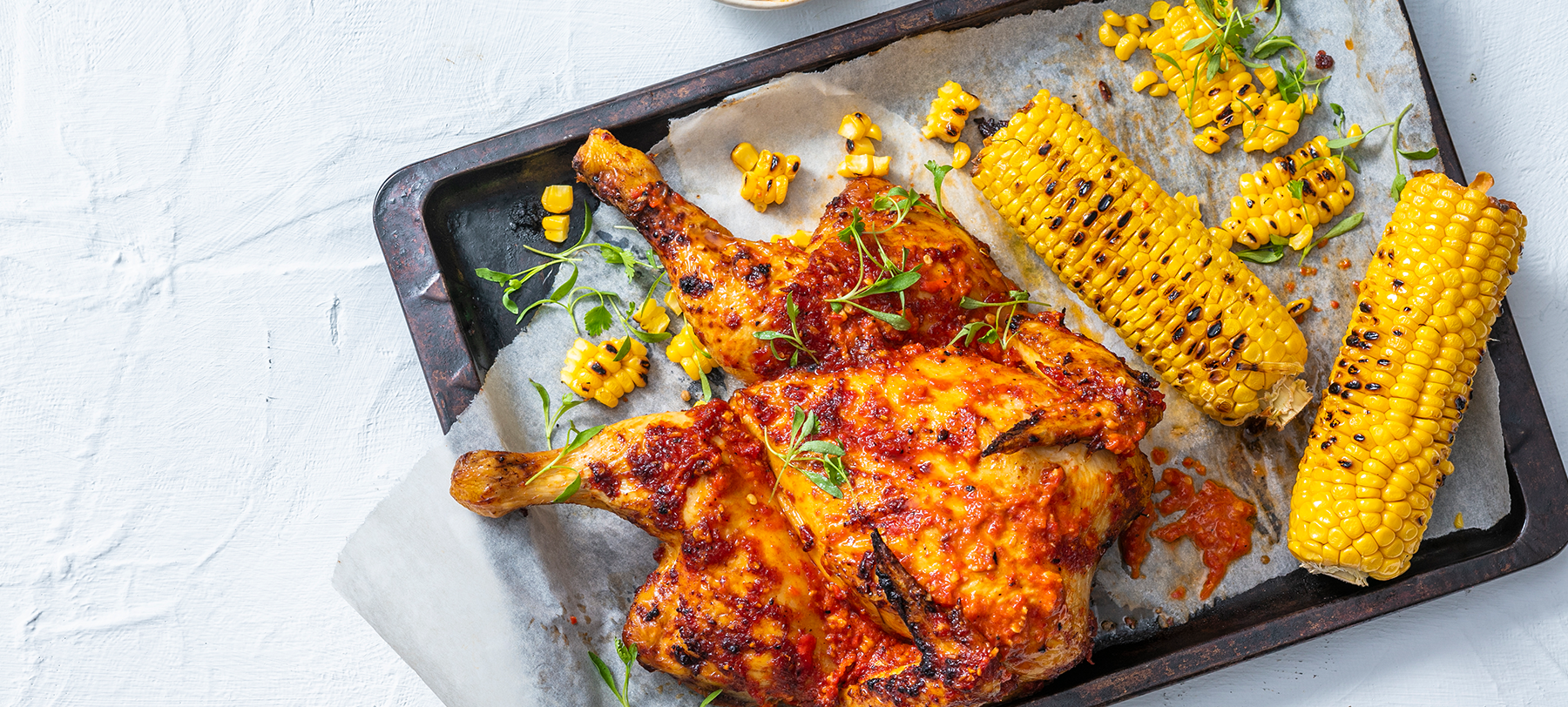 Prep time
120min

Cook time
40min

Serves
4
Lighting a fire this weekend? This spicy spatchcock chicken recipe is a crowd-pleaser of note.
Ingredients:
1 County Fair whole chicken
2 red peppers
2 red chilies, deseeded
3 garlic cloves, peeled and crushed
60ml olive oil
30ml white wine vinegar
5ml ground cumin
5ml smoked paprika
10ml brown sugar
5ml salt
freshly ground black pepper
Method:
To make the marinade, char the peppers on the flame of your hob or under the grill until blackened all over. Place in a covered bowl or plastic bag to steam for 10 minutes. Remove the skins and deseed.
Combine the charred pepper, chili, garlic, olive oil, white wine vinegar, ground cumin, smoked paprika, brown sugar, salt and pepper in a food processor and blend until a smooth paste is formed. Set aside.
To butterfly the chicken, place the chicken, breast-side down, on the work surface. Using sturdy scissors, cut along each side of the parson's nose and backbone to remove it, cutting through the rib bones as you go. Open the chicken, turn over and flatten the breastbone with the palm of your hand so that the meat is all one thickness.
Season the chicken with more salt and pepper
Rub the red pepper paste over the chicken and under the skin. Marinate for 1 - 2hours and then place the chicken on a baking paper-lined roasting tray.
Preheat the oven to 190°C.
Roast the chicken in the oven for about 35 minutes until cooked through and golden brown. If you'd like to cook your chicken over the fire, drain off any excess marinade and place the spatchcock chicken on a grill. Cook slowly and turn regularly.
Serve with charred corn on the cob.