Slow-cooker chicken and corn chowder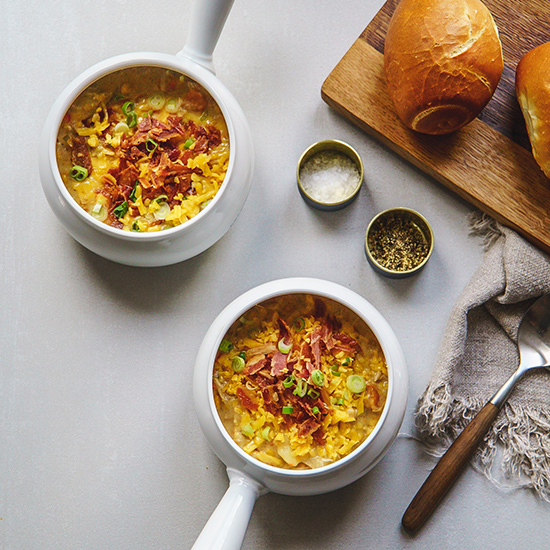 Prep time
30min

Cook time
4h

Serves
4
Chef Claire Allen's chowder is even better the next day.
Ingredients:
4 chicken breasts, chopped
1 large yellow onion, diced
2 carrots, peeled and diced
1 red pepper, diced
½ cup crispy bacon, diced
1 tbsp garlic
420g can of corn kernels
420g can of creamed corn
500g potatoes, chopped into quarters
2 cups chicken stock
3 tbsp Worcestershire sauce
3 tsp garlic powder
1½ cup cream
¼ cup corn starch
2 cups milk
1 cup shredded Cheddar cheese
fresh chives or sliced green onions to serve
salt and pepper
Method:
Sear the chicken in a pan over medium-high heat.
Add garlic, onion, carrots, and red peppers, and fry.
Fry the diced bacon until crispy and set aside.
Tip the chicken and vegetables from the pan into the slow cooker.
Add the corn kernels, creamed corn, potatoes, chicken stock, Worcestershire sauce, garlic powder, salt, and pepper.
Stir and cover with the slow cooker's lid.
Cook on high for 3-4 hours or on low for 6-8 hours.
Stir in the cream when the potatoes are tender and the chicken is falling apart (about 45 minutes before the end of the cooking time).
Whisk together the corn starch and milk, and stir into the pot.
Cover and allow to thicken on the high heat setting.
Use a potato masher to further thicken the chowder.
Stir in salt and pepper to taste. Add in the cheese and top with the bacon.
Garnish with fresh chives or sliced green onions, and serve.